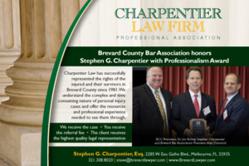 Melbourne, FL (PRWEB) April 30, 2013
Steve Charpentier, a personal injury attorney in Central Florida, received the Brevard County Bar Association's Private Lawyer Award for his work with a local community college and other organizations.
Throughout the course of his legal career, Melbourne personal injury attorney Steve Charpentier has devoted his time and resources to clients, as well as the local community. He believes that attorneys have the knowledge and skill to advance change and institute long-lasting improvements in their localities. Charpentier has endeavored to do just that by working with community groups in Brevard County. His role in the community was recognized last month at the Brevard County Bar Association's 14th Annual Professionalism Awards luncheon; the bar honored Charpentier with the Private Lawyer Award for the leadership he has displayed in the community and as a Brevard Community College (BCC) Trustee.
BCC President Jim Richey introduced Charpentier and presented him with his award.
"His passion, dedication, and tireless public service are a model I hope others will follow," said Richey. "I am certain that his efforts will resonate for generations to come as the college moves forward to meet the educational needs of Brevard County, Central Florida, and the state."
Charpentier, who was named to the BCC Board of Trustees in 2008, has shown support for the growth and expansion of the college, which will start offering four-year degrees and be re-named Eastern Florida State
College this summer. Both of these changes are intended to bring increased educational opportunities to local residents.
During Charpentier's speech at the luncheon, he encouraged other attorneys to make a difference in the community.
"Step outside your realm in the legal community and into the greater realm of Brevard County where you can also make an important difference," he said. "Attorneys are not afraid to make the kinds of decisions that can help many organizations succeed."
Steve Charpentier's Professional Background
Charpentier attended Brevard Community College, prior to earning his undergraduate degree from the University of Central Florida and law degree from Florida State University. The same year that he graduated from law school (1981), he became a member of the Florida Bar. He then gained experience with law firms in Brevard County. In 1989, Charpentier and partner Hubert Childress decided to start their own practice.
Since then, Charpentier has been recognized by his peers as a top-rated attorney; he has received Martindale-Hubbell® National Law Directory's best possible rating, the AV rating. He is a former president of the Brevard County Bar Association. He is a current member of the Florida Bar, the New York State Bar, The DC Bar, and the Florida Justice Association.
Contact Information
Steve Charpentier has been providing legal counsel to Central Florida clients for more than three decades. His personal injury practice, Charpentier Law Firm, has offices available for consultation in Melbourne, Titusville, and Cocoa.
Melbourne Office (Main Office)
2285 West Eau Gallie Blvd.
Melbourne, Florida 32935
(321) 308-8020
Titusville Office
1135 South Washington Avenue Titusville, Florida 32780
(321) 631-5446
Cocoa Office
1980 Michigan Avenue Cocoa, Florida 32922
(321) 631-5446
Originally posted by Charpentier Law Firm, P.A.