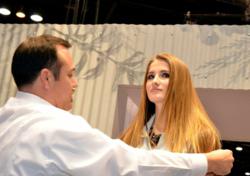 I was pleased to introduce and demonstrate the Überliss Smoothing System. Our area was filled with many professionals eager to absorb this new technology. - Marco Ortiz
Chicago, Illinois (PRWEB) April 30, 2013
Überliss premiered their three-step keratin treatment at America's Beauty Show at the McCormick Center in Chicago, Illinois. America's Beauty Show is the largest hair and beauty show in the Midwest. Hair stylists and beauty school students from all over the country attend the three-day trade show.
The Überliss booth showcased a fun and energetic team to present their new Keratin Treatment. Models wore bright colored spring clothes to complement their smooth and shiny locks, courtesy of the Überliss treatment. Überliss had three stylists performing the Keratin Treatment on the models' hair. Attendees at America's Beauty Show were eager to see the live presentations by the stylists.
"America's Beauty Show was filled with an enthusiastic crowd of hairdressers along with vendors," said in-house Überliss hair stylist, Marco Ortiz. "I was pleased to introduce and demonstrate the Überliss Smoothing System. Our area was filled with many professionals eager to absorb this new technology. The Überliss runway also gave everyone in attendance a little taste of how hair and fashion go together."
A complete photo album of Überliss at America's Beauty Show can be found on their Facebook Page at https://www.facebook.com/uberliss.
Stylists or consumers interested in more information on the Überliss three-step smoothing system can visit http://uberliss.com.
About Uberliss
Uberliss is a three-step smoothing system designed to straighten frizzy and wavy hair textures. Formulated with an exclusive Triple Blend of Cysteine, Keratin, and Buriti extracts, the formaldehyde-free system guarantees smooth, shiny, silky, and soft hair. Launched in February of 2011 in Brazil, Uberliss, a Salon Commodities brand, is quickly growing into a favorite of professional hair stylists worldwide. http://www.uberliss.com.