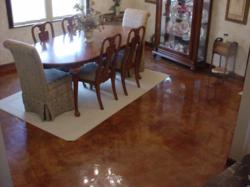 Water-based concrete stains offer an eco-friendly, functional alternative to acid-based stains.
Appleton, Wisconsin (PRWEB) April 30, 2013
Consumer demand and a dedication to protecting the environment have recently led local Wisconsin decorative concrete contractor, McHugh's Decorative Concrete, to begin providing an alternative to the traditional acid stain used to color concrete surfaces. Their new water-based, Eco-friendly concrete stains are available in a myriad of color options, and can be used to color both interior and exterior concrete surfaces.
McHugh's Decorative Concrete can design and install a custom stained concrete surface to complement any existing color palette or design aesthetic. With Eco-friendly, water-based concrete stains, it's even possible to create the appearance of a marble floor.
The concrete artisans at McHugh's Decorative Concrete have been providing customized decorative concrete in Greenville, Appleton, Neenah, Menasha and the greater Fox Valley of Wisconsin since 1993. Their areas of expertise include stamped concrete, stained concrete, polished concrete, epoxy flooring, concrete repair and new concrete construction for residential and commercial clients.