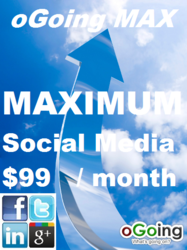 "oGoing Max is the most economical social media marketing solution for small business that provides maximum exposure. oGoing Max only costs $99 a month." Sanjay Dalal, founder & CEO
Irvine, CA (PRWEB) April 30, 2013
oGoing introduces oGoing Max - Maximum social media marketing services for small business to attract more customers.

oGoing Max Exposes the Business to Thousands of potential customers online.
oGoing Max Increases the Website Traffic and Engages with more customers.
oGoing Max Grows the Social Media Brand and Boosts SEO Ranking.
"oGoing Social Media Marketing Services have greatly increased our exposure in the little time they have taken over our account. Not only has the oGoing team improved our chances of letting people know about our live tournaments and events in Las Vegas, they have taken care of situations in a very fast and timely fashion. Their very affordable fees make oGoing a very reasonable and sensible solution to the small business companies." - Lily Ann Hainline, Gin Rummy Association
"I am pleased to offer our most affordable and powerful oGoing Max social media marketing services for small business! oGoing Max blows the competition away with maximum exposure, visibility, traffic, SEO and engagement for only $99 monthly. oGoing Max has no competition." Sanjay Dalal, CEO & founder, oGoing
Why are businesses choosing oGoing Max?
1. Get more online visibility
Higher online visibility means more and more potential customers see what the business is doing, and these customers find and connect with the business.
2. Generate more website traffic
Higher website traffic means more quality prospects visit the business website and social network profiles, and do more business! More is a good thing.
3. Grow SEO ranking
Higher SEO rank means the website and social network profiles are found on the first pages of major search engines when customers search for the business.
4. Gain more warm leads
When the business gains more online visibility, exposure, traffic and SEO, it begins to obtain higher number of prospective clients.
5. Gather more customers
This is the ultimate goal! Attract and obtain more customers. As the social media brand grows, the business gets more quality customers.
"Our customers have increased their sales by 20% within six months." - Satisfied oGoing Max Business
Interested in Out-Marketing, Out-Growing and Out-Hustling the Competition?
oGoing Max is an Affordable and High Quality Social Media Marketing Online Solution for Small Business for a nominal cost of only $99 a month.
An inexperienced intern can cost a business $500 a month. oGoing Max costs less than fifth of an intern's salary. And most importantly, the business benefits from oGoing's market leading expertise and experience.
Why choose oGoing for Maximizing your Social Media Marketing?
1. oGoing is the nation's leading business social network for owners. oGoing lives and breathes social media 24/7
2. oGoing has been successfully managing social media services for clients for four plus years
3. oGoing is a recognized leader in social media marketing solutions and consulting services
4. oGoing founder & CEO has trained and consulted over 500 business owners on social media
5. oGoing is a Facebook, Google, LinkedIn, Twitter, Microsoft and Apple trusted partner and developer
About oGoing:
Ogoing.com is USA's leading social network for small business. oGoing gives owners and entrepreneurs a powerful web social media marketing platform that promotes the business, attracts new customers, boosts online visibility, improves website traffic and generates warm leads.