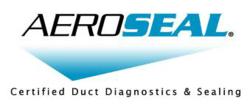 The best way to save money on air conditioning cost in Chandler, Arizona
Chandler, Arizona (PRWEB) April 30, 2013
Chandler, Arizona based Air Care is providing an unbeatable service revolutionary duct sealing technology Aeroseal with the purchase of a new air conditioning unit. This offer applies to all new air conditioning units purchased from and installed by Air Care for a limited time. Air Care is an authorized Aeroseal service provider.
Aeroseal is a newer technology that helps to contain and lower energy costs by sealing leaky air ducts. A new energy efficient air conditioning unit is important to pull out the hot air without driving up costs, but it is also important to make sure that air ducts are properly sealed. Leaky air ducts cause stress on the overall HVAC system, with about 30% of the cost to heat and cool your home disappearing into the air around ducting. Air duct leaks can also bring in excess mold and dust into the home, aggravating allergies at the same time as driving up energy costs.
Aeroseal in Arizona helps to find the leaks in ducting in home and business HVAC units. By using the Aeroseal software to examine the leaks and the issues with the ducting, Aeroseal technicians can accurately measure any duct leakage, identifying the problem areas and then closing them off with a patented sealant that only sticks to the areas where air is escaping from the ducts. Air Care uses the Aeroseal method as it provides one of the most effective methods to measure and seal the leaks in ducting, bringing down energy waste.
Air Care prefers the Aeroseal method to look for leaks in duct work as it provides the most advanced and easiest method to seal leaky ducts. Sealing duct work will allow the air conditioner and insulation to work properly together to provide a comfortable home while decreasing cooling costs. Energy efficiency is essential for any modern air conditioning system, and efficiency includes not only the unit itself but the entire system throughout the house. Aeroseal will not only help with the current HVAC system in a home, but it will help a new unit to reach its optimal working conditions.
Now is the time to purchase and have a new air conditioning unit installed. Air Care recommends that all potential customers looking to lower their own heating and cooling costs replace their old systems with one that is more energy efficient, helping them to lower their monthly bills and provide a more comfortable home year round. With the warm Chandler, Arizona summer ahead, purchasing a new AC unit now will allow Air Care's certified technicians to have the air conditioning units installed and properly calibrated with customers' home and business HVAC system. They are providing the Aeroseal service with every new unit purchase to help customers be fully prepared for the hot Chandler, Arizona summers and to drive down their personal energy costs. Air Care has two main offices one for Aeroseal and air conditioning in Chandler, AZ.The other just provides air conditioning service in Phoenix AZ.
More information about Aeroseal and new air conditioning units, including current rebates, can be garnered from one of Air Care's sales representatives or their Arizona air conditioning news page