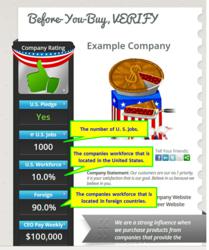 Sarasota, FL (PRWEB) April 30, 2013
Unemployment remains stubbornly high with nearly 12 million Americans unemployed, as reported this month by the Bureau of Labor Statistics (BLS). The April report also shows that more than 6 million of these people actively looking for work have been unemployed for 15 weeks or more, indicating the job market is weak. The "official unemployed" rate is 7.6 percent (U-3) and the "actual unemployed" rate is 13.8 percent (U-6) as reported by BLS. Not surprising, the weak job market has some high school and college students asking questions. Fifteen-year-old Austin Mazzolini wanted to know these questions:
Which companies are making an effort to keep jobs in America?
Why is CEO pay at large companies 350 times the average worker pay?
When he set out to find the answers, he discovered that the data wasn't being collected and reported in a way that he could easily understand. Austin thought if he wanted to know which companies are keeping Americans employed then other people might want to know too. So with strong support from his brother Ross and other friends and family, Austin started SaveOurWorkforce. The organization has created a database to store information about the American workforce by company. It provides public access to its database through a free website tool "Before-You-Buy, Verify". Prior to making a purchasing decision, a consumer can access the database to verify if the company has been making an effort to support the U.S. workforce by retaining jobs in America. The Before-You-Buy, VERIFY tool empowers consumers to reward companies by directing their purchases towards those companies that support the U.S. workforce the most.
"Young people are really concerned about our future," explained Austin. "If we don't keep jobs in America, there will not be jobs for us when we get out of school." To harness and channel the energy of the youth, the organization is setting up high school and college clubs across the nation to track and report the workforce size of all companies in their area. Teenagers who participate in the high school and college clubs research and reach out to local and national companies to collect information for the database. They learn how to evaluate company financial statements to understand why hiring or layoffs are occurring. These teenagers develop valuable research, communication and career skills as they gain insight into the employment practices of local and national companies.
People who are interested in keeping jobs in America can show their support by becoming members at SaveOurWorkforce.org. "Working together we can rebuild America's workforce and create a brighter future for us all," says Mazzolini.
About SaveOurWorkforce
SaveOurWorkforce is a place to unite the 99% who are the working families, citizens, and companies who care about America's future. By signing up for a free membership on http://www.SaveOurWorkforce.org, citizens can display their support for keeping our U.S. workforce strong. The "Before-You-Buy, Verify" tool on the website allows users to search a company's foreign vs. domestic workforce and the CEO's weekly salary, helping them make informed purchase decisions. By offering these tools, companies are given an incentive to keep jobs in America.