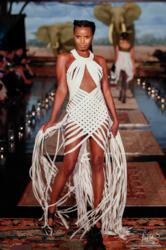 Los Angeles, CA (PRWEB) April 30, 2013
The exotic landscape of the African Mammal Hall of L.A.'s Natural History Museum set the tone for Woodbury University's 49th Annual Fashion Show, aptly themed "Neo-Tribes." After guests found their seats, the festivities commenced, and one by one, the highlights of Woodbury's new fashion curriculum strutted down the runway.
The focal-point of the event were the senior collections, which infused the event's running theme of culture, community and reinvention into each stitched garment.
Senior designer, Drew Kessler, introduced his presentation titled, "The Restless Soul Collective." The collection emphasized duality and durability, with many of the pieces transforming from garment to accessory, and back again.
"The Restless Soul Collective is inspired by the lifestyles of nomadic people all around the world," says Kessler. "Throughout history, these tribes live off the land without major influences of the modern world but still strived to find beauty in everyday life. I wanted to bring in elements of their clothing that hold a dual purpose of identity and beauty as well as functionality and durability."
Other notable collections ensued, including the work of designer Andrea Dorian Pellecer, whose Boardroom Bohemian collection wowed guests with its striking 70's character and modern – yet refined – edginess.
Pellecer explains that experimentation with the deeper qualities of the fabrics, such as weight and texture, is what brought her vision to fruition, adding that she designed her collection with "strong, successful women" in mind.
At the close of the runway display, guests made their way into the grand North American Mammal Hall to have their own close encounter of the wonders abroad. Moroccan cuisine was served as guests mingled in celebration of the fashion-forward exhibition they just witnessed during the runway segment.
With the opening event of "Neo-Tribes" concluded, Woodbury's fashion show production moves onward with its public encore presentation being held at Center Stage Studios in downtown Los Angeles on May 2. While the 1,000-ticket venue has already sold out, press passes and VIP seating will be accommodated as availability permits.
To find out more information about Woodbury University Fashion Department, please click.
About Woodbury University
Founded in 1884, Woodbury University is an accredited institution located in Burbank, Calif. that offers prospective students an array of undergraduate degree options such as fashion design, fashion marketing, architecture and more. Their mission is to provide a creative and innovative curriculum to students, while fusing real-world experience into every program.