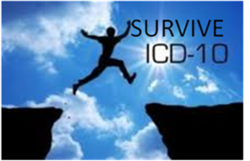 it's important to find an effective and affordable ICD-10 implementation solution to keep your hospital running smoothly and effectively during and after the conversion
Cumming, GA (PRWEB) April 30, 2013
It's official. CMS has confirmed that October 1, 2014 will remain as the ICD-10 go live date, so every CFO should have ICD-10 Implementation and Project Management at the top of their priority list. "Given Canada's experience of a 23 to 50 percent decrease in coder productivity during their ICD-10 conversion, it's important to find an effective and affordable ICD-10 implementation solution to keep your hospital running smoothly and effectively during and after the conversion," said Georgia HIMSS Chapter President Denise Hines.
With that in mind, what are the top 5 things a CFO should be considering?
1) Who will manage the project? The first person that comes to mind is the HIM Director, but you should consider whether he or she has the time to manage the details of the entire ICD-10 project. Details outside of the HIM Department include Health IT system upgrades vendor readiness and testing, education for each clinical and professional role in the hospital, documentation improvement strategies to be deployed, and policy changes with each payer, and the list goes on and on. To improve your ICD-10 project success, hospital leadership should identify a high achiever with a good track record for project success and good organizational and communication skills to lead the project. In addition, an executive sponsor should be assigned to add accountability and to ensure that the project stays on track.
2) What project management software or solution should be employed? With hundreds of project tasks to be completed by Oct 1, 2014 this is a key element of the ICD-10 Implementation plan. Buyer beware. There are many web-based softwares and consulting solutions on the market today with the costs ranging from $6000 to $60,000, so poll your peers and fellow healthcare professionals to find out what tools and resources they have chosen. Make sure that the solution is comprehensive and doesn't have any hidden costs.
3) How will the ICD-10 education be delivered and competencies by assessed?
With codes increasing from 13,000 to 68,000 and the entire coding methodology changing, a comprehensive education plan must be developed and implemented over the next year. Dr Terrance Govender, Medical Director and ICD-10 Instructor for Healthcare Coding and Consulting Services says, "With education needs ranging anatomy to healthcare billing, a minimum of 30 hours of education is required to ensure readiness for all involved, especially on a professional coding or clinical level." So make sure to employ a complete ICD-10 education solution that can be delivered online and that will provide the ability to track and document course completion and learner assessments online.
4) How much is budgeted for ICD-10 implementation and changes required
in every department of the hospital? In addition to the project management software and education resources required, the budget should include dollars required for Health IT and health information system upgrades, additional coding resources, contingency planning, etc. An initial ICD-10 assessment should identify each area where additional resources should be budgeted.
5) When should you begin?
The most recent timeline published by CMS,
http://www.cms.gov/Medicare/Coding/ICD10/Downloads/ICD10SmallHospitalsTimelineChart.pdf, shows that hospital ICD-10 projects should be well underway in order to ensure readiness by October 1, 2014 go live date. With so much at stake, and with limited funding and resources available, CFOs should look for a way to leverage funds and resources by getting involved in an ICD-10 network initiative that offers an affordable and comprehensive solution; or contact their neighboring hospitals and providers to develop a cost-sharing model that will provide the resources needed for a successful ICD-10 transition.
Together as health care providers, and as Hospital Financial leaders, we must commit today to make strong leadership and partnership decisions that directly factor into the future compliance and success of our facilities. Successful implementation of ICD-10 begins now.
Success in Numbers
More than 50 small and rural hospitals in Georgia, Florida, SC, MS, MI and Texas are working together to leverage their funds to employ the industry experts to provide project management, ICD-10 education and resources to ensure a successful transition by Oct 1, 2014. Industry experts working with this project include Dr. Denise Hines, President of eHealthServices Group and Chapter President of Georgia HIMSS, Michelle Madison, Attorney with Morris, Manning & Martin Law Firm, Dr. Terrance Govender, Medical Director and ICD-10 Instructor for Healthcare Coding and Consulting Services, Tyler Wallace with Small Jumps Project Management Services with the project coordinated by Kathy Whitmire, Managing Director of HomeTown Health. Hospitals are encouraged to contact Kathy Whitmire to enroll their facility in this program which began April 17, 2013 and will run through October 2014.