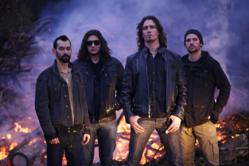 "It was an absolute honor to meet Bob at the concert," said Madison Rising lead singer Dave Bray, a Navy vet. "The way he introduced us gave me chills. I couldn't believe it when we got a package from him a few days later and saw what was inside."
(PRWEB) April 30, 2013
Patriotic rock band Madison Rising revealed today that legendary entrepreneur Bob Parsons, best known as the founder and executive chairman of #1 domain registrar GoDaddy.com, sent them a surprise $10,000 check days after seeing the band perform in Scottsdale, AZ.
"It was an absolute honor to meet Bob at the concert," said Madison Rising lead singer Dave Bray, a Navy vet. "The way he introduced us gave me chills. I couldn't believe it when we got a package from him a few days later and saw what was inside."
"I think this is one of the most exceptional songs I've ever heard in my life," Parson's said live on stage as he introduced the band as the opener for rock legends Steppenwolf. "I'm proud of the way the Star Spangled Banner is done… but these guys take it to whole new level. Join me as we have our National Anthem played by my favorite group, Madison Rising." Click here to see the performance: http://youtu.be/B_iAYCIBEPA
Parsons, who received a Purple Heart along with several other honors during his service in the United States Marine Corps is a well-known patriot and should know a thing or two about the Star Spangled Banner. After all he grew up in Baltimore, MD, the very place Francis Scott Key originally wrote that song 199 years ago.
"We have a lot of great plans coming up to celebrate the 200 year bicentennial next year," said band manager Richard Mgrdechian. "It would be incredible if we could team up with someone as insightful and generous as Bob to help spread pro-American values, play a major role in getting this county back on track and have some fun in the process. We plan to do everything we can to continue to re-energize the National Anthem and make it the #1 best selling song in the country. We created Madison Rising to help restore a sense of pride back into this country, and we're thrilled that it's having that effect."
Madison Rising released its widely acclaimed version of the Star Spangled Banner last summer, updated with a special addendum to reflect our nation's struggles at the dawn of the 21st century. In conjunction with that release, the band launched the Star Spangled Banner Challenge (http://www.starspangledbannerchallenge.com) to offer Americans a fun and meaningful way to show their patriotism by watching the video and downloading the song directly to their iPods and other devices to play proudly in their cars, at the gym, at the beach or anywhere else they want. With nearly 4 million views on YouTube, the band is well on its way to achieving its goal of five million views by July 4th.
Madison Rising will perform at the Chameleon Club in Lancaster, PA this Friday, as well as a troop rally sponsored by WHP 580 AM at the Capitol Building in Harrisburg, before heading down south for a two-week tour of Texas. The first stop will be the Grand Stafford Theater in Bryan, with additional dates in Plano, Dallas and Waco, along with surprise visits to military bases in the area. The band is attempting to find some legitimate charities in the area to work with in order to help raise money for families affected by the recent tragedy in West, TX.
Madison Rising promotes the principles of liberty, independence, smaller government and personal responsibility. Their mission is not only to make great music, but to also send a message that American culture is alive and well. Madison Rising is currently recording its second album and actively touring around the country. To book the band for live performances such as music festivals, sporting events, corporate events or welcome home parties for those serving overseas, please contact Madison Rising at booking(at)madisonrising(dot)com.