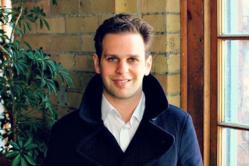 Andrew credits Panvista's success to his entire team, and encourages their ongoing development.
Toronto, ON (PRWEB) April 30, 2013
What does it take to stand out, and be truly remarkable, or notable in your industry? Depending on what your field of expertise is, importance is distinguished by a number of factors; In Andrew Echenberg's case, working in mobile software, he has been deemed notable due to his honesty, integrity, transparency, ever-evolving mobile knowledge, and his consistent commitment to the clients and staff of Panvista Mobile. For these reasons (and many more), Andrew has been named a Notable Young Entrepreneur by the premier lifestyle guide for young professionals across Canada, Notable.ca
With five editions, over one million monthly Canadian website visitors, and informative and relevant content shared over their website, local newsletters, and social media, Notable connects hundreds-of-thousands of forward-thinking visionaries and trend-setters.
Their feature on Andrew is a fantastic indication as to all the hard work that Andrew does behind the scenes here to continually grow the company, and everyone around him.
Panvista's foundation, which the team strives to build upon on a daily basis, is integrity, honesty and accountability, growth (both personal, and continued growth of the company), and to have a productive balance between work and play, believing that co-workers are like family members, and deserve fun.
Andrew credits Panvista's success to his entire team, and encourages their ongoing development. He promotes a positive office culture by hosting a catered team breakfast for the staff on the first Wednesday of every month, planning quarterly outings for the team (such as bowling, ping-pong tournaments, and dinners out), charitable efforts, and when he sees that someone needs a break, he's quick to challenge them to a game of foosball.
With his exceptional drive, and vision of Panvista becoming an industry-leader in the B2B Mobile landscape, his continued efforts to maintain a family-like team, and his outstanding customer service, Andrew captures all the qualities, and more, that drive young entrepreneurs. He remains modest, if not entirely self deprecating, but truly believes in his craft. He has grown Panvista, since their start in the mobile sector in 2010, and for all of these reasons, he is truly notable.
Click here to read the article.