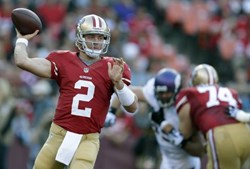 San Francisco, California (PRWEB) August 27, 2013
On Sunday night, the San Francisco 49ers helped prove they are going to have another standout season in the NFL by defeating the Minnesota Vikings 34-14. This was the 49ers third preseason game, and they showed off the depth on their roster by playing a lot of men. Starting quarterback Colin Kaepernick got the team off to a fast start with a touchdown pass in the first quarter. To get there, the quarterback carried his team with six straight completions before eventually ending up in the end zone. Then in the second quarter, the 49ers continued their success when Lavelle Hawkins returned a kickoff 105 yards for a touchdown.
Although the game was an easy decision, head coach Jim Harbaugh afterwards more or less announced who will be playing as the team's backup quarterback for the season. And that player, despite recent trade rumors, would be Colt McCoy. This is a huge accomplishment for the young player, being that the 49ers are so deep in choices for the position. Also fighting for that spot of his was Seneca Wallace, Scott Tolzien, and B.J. Daniels. But after Sunday night's victory, the winner was announced. Throughout his career, the 26-year-old quarterback has played in 24 games, threw for 4,388 yards, had 21 touchdowns, and 20 interceptions. He also has a 58.3 completion average.
In the other two preseason games played by the 49ers, they lost the first to the Denver Broncos—a close game that ended 10-6. They then played another close game against the Kansas City Chiefs, but came out on top when they won 15-13. The team's last game before the season opener will be on August 29th against the San Diego Chargers. To purchase a 49ers ticket to this game and more, visit us at http://www.49ers-Tickets.net. Customers can find tickets to any game they would like to see, and use the site's other great features while there. Tickets will never be overpriced, because http://www.49ers-Tickets.net does not charge for service fees. Fans can enjoy the 49ers social media hub to interact with other fans, or read up on current news on the 49ers active blog.