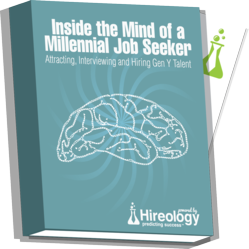 "Between their innovative attitudes and dedicated personalities, millennials can be a great addition to any company." — Morgan Gleasman, Hireology's recruiting manager
Chicago, IL (PRWEB) May 01, 2013
Hireology, a leading selection management platform, has published an eBook about the most effective processes for recruiting and hiring millennials. Titled "Inside the Minds of Millennial Job Seekers," the guide aims to help hiring managers in their quest to hire young professionals.
Introducing readers to the most effective recruiting techniques, the guide takes readers through the process of writing job descriptions targeted specifically towards millennials. Placing emphasis on the importance of "showing, not telling," "Inside the Minds of Millennial Job Seekers" helps hiring managers understand the aspects most important to these young professionals.
Moving from the recruiting to interviewing process, the guide highlights key components that should be discussed when interviewing millennials.
"Between their innovative attitudes and dedicated personalities, millennials can be a great addition to any company," said Morgan Gleasman, Hireology's recruiting manager. "But we find many hiring managers are hesitant to hire millennials. They assume that because they are young, they are inexperienced...but more often than not, that's just not the case."
For more information on recruiting and hiring millennials, download the free eBook here.