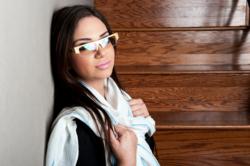 We wanted to create beautiful eyewear that could also be a fashion statement...
Marina del Rey, CA (PRWEB) May 01, 2013
Siempre Verde Eyewear, based in Marina del Rey, California, delivers all wood prescription eyewear directly to your door. With over fifteen frame choices, Siempre Verde's adventurous design and quality craftsmanship, all wrapped up in a natural wood frame, are making a statement- optical fashion can both look and feel good. "We wanted to create beautiful eyewear that could also be a fashion statement. Consumers want to have different colors and styles to go with different looks, but current pricing models don't allow the average person to be able to do that- we hope to change that," states CEO Salumbides.
November 12, 2012 Forbes reports that Luxottica Eyewear controls over eighty percent share of the market and dominates the eyewear industry. They currently design, manufacture, license and sell most of the eyewear brands being sold in the World today. The problem for consumers is that Luxottica creates an illusion of choice without competitive pricing. And consumers have seen little innovation in the eyewear industry. New colors and new brands, yet the same plastic, metal and glass at the same price points. Recently, there are new companies springing up, using an e-commerce model offering natural materials and classic styles with a modern twist. Siempre Verde is now delivering their wood eyewear with prescription lenses sent directly to your home.
Staying true to its motto "Style Sustained," Siempre Verde sunglass and optical frame embody the unique spirit of Southern California's fashion scene. They provide style-conscious urban professionals with naturally inspired accessories that will also raise their environmental awareness. Those frames entitled Ocean, Brentwood, Rodeo and Venice are designed to represent their respective Los Angeles neighborhoods evoking fun, sun and fashion.
Siempre Verde's "Get some, give some" program is a perfect way to address our environmental concerns and reforestation is the most relevant and attainable goal. Through its giving program and in partnership with 1% for The Planet, Siempre Verde will plant a tree through American Forest with every wood eyewear purchase.
Because each piece of wood is unique, so too will be your eyewear. You'll never see another pair that's exactly like yours. Siempre Verde, simply put, has produced a wearable work of art.