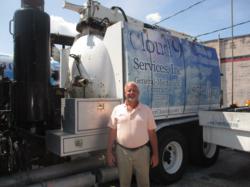 "Michael is married with four daughters and a son. He enjoys playing guitar, studying history and practices WU Shu Kung Fu."
Orlando, FL (PRWEB) May 08, 2013
Fender reported, "Michael's combination of education and experience gives him a unique ability at solving intricate problems during all phases of a project, from pre bid to project closeout. He brings to us experience in estimating, engineering, and project management dealing with utility projects such as hydroexcavation and pipe repair. Michael has worked with numerous local, state, and federal agencies during his career, as well as working with the private sector."
According to Fender, "Michael Collins was born in Washington, DC and was raised in Annapolis, MD. He has his Bachelors Degree in Civil Engineering from the University of Maryland, and his Master of Engineering Administration from the Massachusetts Institute of Technology." Fender added that, "Michael is married with four daughters and a son. He enjoys playing guitar, studying history and practices WU Shu Kung Fu."
According to Rick Fender, Michael's responsibilities include the following:

Researching and evaluating new bid opportunities.
Preparing estimates for hydroexcavation, pipe repair an other projects.
Reviewing plans for constructability.
Value Engineering and Risk Analysis.
Preparing Project Schedules.
Managing Projects from pre-bid to closeout.
Marketing.
"Michael's responsibilities are utilized in both our underground utility and marine construction division (Fender Marine)", said Fender.
Fender expanded the information on the company by explaining, "Cloud 9 Services, Inc.'s key personnel included Xi Lu "Lucy" President, Rick Fender Vice President, Sally Li Office Manager, Michael Collins Senior Project Manager, Angelo C. Lopes Sr. Director of Operations, Dean Hurst Project Manager, Jose Negron Lead Sewer Technician and Tom Delgado Sewer Technician."
Cloud 9 Services, Inc. is a lift station cleaning, hydroexcavation and pipe repair contractor. Cloud 9 holds several Florida State Certified Contractor's licenses including Plumbing, Underground Utility and Excavation, Mechanical and General. Cloud 9 Services, Inc., located at 1201 West Jackson Street in downtown Orlando, FL, was founded by Rick Fender in 2001. Cloud 9 also specializes in commercial pipe repair, lift station cleaning, hydroexcavation and maintenance, storm and sanitary system pipe cleaning and repair.
Call Cloud 9 Services 24/7 at 407-481-2750 407-481-2750 FREE