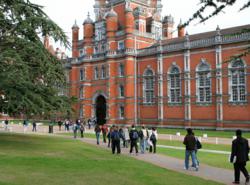 "Over the last 18 months we have had our name on more than 10 completed high-yielding student developments."
UK (PRWEB UK) 2 May 2013
The leading property firm has launched another two new student projects, adding to their already extensive catalogue of private student properties, confirming themselves as a dominant force in the private student accommodation market.
The developments will be launched in Bolton and Nottingham, building on the previous success experienced by the company in these areas; such as the selling out of Bard House in Nottingham within three months and the selling out of Nelson Square in Bolton within only five months of launching.
"The successes of our recent projects in these areas have shown to us how drastic the need for purpose-built student accommodation is in regional locations. The number of enquiries for student housing in Nottingham and Bolton is still growing, because of the simple mismatch between supply and demand," comments Martin Copeland, Sales Director at Knight Knox International.
Copeland continues "Over the last 18 months we have had our name on more than 10 completed high-yielding student developments and these two new launches are only further proof of the continuing demand for boutique student property in regional locations."
Built over four floors, this 61 unit development comprises three different sizes of studio, allowing for three different levels of investment. Each studio will be en-suite, including a bathroom and cooking facilities, which will allow students complete privacy if they require it.
Halley House has also been designed to include a fully-equipped gymnasium and common room on the ground floor, to encourage a sense of community amongst residents. Units will be available at a starting price of £49,950.
A former church, this historic grade II listed building will become a three-storey apartment block with 42 studio flats. A four-storey apartment block will also be built to the east of the church and a two-storey apartment block, called The Lodge, will be put up on the Crook Street side. These two buildings will contain 40 apartments between them.
Although designed as a residential buy-to-let, Trinity Church is also aimed at the student market due to its location at the centre of one of the UK's largest student hubs with four universities within its locality.
Investing in Trinity Church offers a unique advantage over other student accommodation projects, due to the huge opportunity for capital growth as the individual units can be re-sold on the open market as a traditional buy-to-let investment. Individual units will be available at a starting price of £47,950.
About Knight Knox International
Knight Knox International offers an extensive range of property and services worldwide. Established in 2004, the company has sold over 4,000 properties across 50 countries. With extensive experience within the property industry, the Knight Knox team are specialists in their field, ensuring there is always someone on-hand to guide you, whichever location you choose.