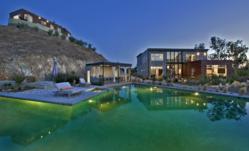 "Rarely does an estate of this magnitude, designed in an ecofriendly manor, come to market in such a prestigious locale as Malibu," Dustin Cumming stated
Malibu, California (PRWEB) May 01, 2013
Dustin Cumming and Danelle Lavin of Hilton & Hyland Real Estate, in partnership with Concierge Auctions, introduce The Reflections at Trancas Canyon, a sprawling world class Malibu estate.
A contemporary, gated estate located on 10.2 private acres with five uniquely designed structures encompassing a total of 10,500 square feet, and an adjacent 10-acre lot with completed and approved plans to build another architecturally-significant residence and separate guest suite, both located at in a posh, private section of Malibu, will sell at a live auction on May 17th. Offering spectacular views of the Malibu coastline, the properties will sell separately or collectively in cooperation with Dustin Cumming and Danelle Lavin of Hilton & Hyland, an affiliate of Christie's International Real Estate. Originally listed for $12.5 million, 5757 Trancas Canyon will sell at or above a $4.75 million reserve. Originally listed for $2.5 million, 5744 Trancas Canyon will sell at or above a $999,000 reserve.
"As one of the few live/work compounds in the area, I knew the first time I laid eyes on Trancas Canyon that a property like this was hard to come by. I looked for the perfect retreat for over two years. I've enjoyed my time here tremendously, especially the privacy and communing with nature it affords, but am ready to move on to spending more time with my new granddaughter," stated the seller, Doug Busch , a well-known photographer and founder and president of Busch Design Build. "Working with Concierge is going to be an exciting process. They've been extremely diligent in the weeks leading up to the launch, and I expect nothing less during the next five weeks. Their reputation speaks for itself, and we all look forward to a successful sale on May 17th."
Located at the end of a 650-foot-long driveway at 5757 Trancas Canyon, the glass and steel main residence was constructed loft-style with an unconventional floor plan that offers multiple nooks and comfortable living spaces. Designed by Busch Design Build as three volumes connected by two towers, this tri-story residence abuts the beautiful Santa Monica Federal Park, stretching from the Oxnard Plain to the Hollywood Hills west of the Los Angeles basin offering multiple recreational and educational opportunities. The structure features water roofs, skylights, French limestone flooring, a gated entry for privacy and added security and is entirely computer-controlled. Highlights include a media room, library tower and a 1,250-square-feet master suite, which features 10-foot ceilings, an 8' x 8' retractable roof over the custom-designed bed, a three-sided wood-burning fireplace and a viewing terrace overlooking the canyon. Separately, a poolside building with three studios offers roll-up garage doors, 12-foot ceilings, viewing deck of the ocean, koi ponds and fountains, two-sided fireplace, fireproof storage, full gym, guest suite with full kitchen and viewing deck of the mountains, and a planted roof. Outdoors, residents can enjoy a filtered, salt-water pool (known as one of the largest in Los Angeles), an eight-person spa, a lounging terrace, koi ponds, waterfalls, a zen garden, a massive variety of trees and more than 1,000 drought tolerant plants from around the world.
The adjacent, 10.02-acre parcel at 5744 Trancas Canyon offers spectacular views from the white waters of Zuma Beach to Palos Verdes. Flexible A1-10 allows for horse stables, to take advantage of the property's direct access to over 10,000 miles of trails in the federal park system, or a private vineyard, among other flexible uses. Plans have been completed and approved for a 5,215-square-foot, three-bedroom, three and one-half bathroom home with separate guest suite and swimming pool.
"Rarely does an estate of this magnitude, designed in an ecofriendly manor, come to market in such a prestigious locale as Malibu," Dustin Cumming stated.
Located just 30 minutes from Santa Monica and one hour from downtown Los Angeles, Malibu is an affluent beachfront city that offers the best the west coast has to offer. In addition to being in close proximity to world-class shopping, golfing, dining and entertainment, the property is also steps from the Pacific Ocean, ideal for sailing, surfing or taking a stroll down the beach. Nicknamed "The Bu" by surfers and locals, the community is famous for its warm, sandy beaches and for being home to many Hollywood movie stars and others within the entertainment industry including Jennifer Aniston, Halle Berry, Dustin Hoffman, Tom Hanks, Brad Pitt and Leonardo DiCaprio . Many movies and television shows have also been shot in the area.
The auction of 5744 and 5757 Trancas Canyon will be held live on May 17th. A 2.5% commission is offered to the buyers' representing brokers.
This world class estate is located just minutes from Malibu shops, dining and the legendary Malibu beaches.
http://www.cumminglavin.com, http://www.hiltonandhyland.com, http://www.5757Trancas.com