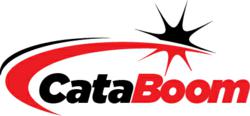 "Since it is all about influencing behavior for online, social and mobile, The Prize SDK will allow games to rise above the competition and become a fully integrated marketing campaign." Tony Ebert- Cataboom Director
Dallas, TX (PRWEB) May 01, 2013
CataBoom™, a subsidiary of SCA Promotions™, is excited to announce its prize software development kit (The Prize SDK™), which allows web, app and game developers to quickly integrate a sweepstakes offer or chance to win up to $2 million with their online, social or mobile-based games or applications. With promotional risk coverage, developers pay a predetermined fee – just pennies on the dollar - and reap the benefits of an engaging consumer promotion and a fixed budget.
CataBoom is incorporating SCA Promotions' patented DrawServer random number generator technology and The Prize SDK solution to extend its abilities to all of the major web and mobile software platforms.
To celebrate the announcement, CataBoom is offering software developers a beta test of the new Prize SDK. The companies chosen will be able to use The Prize SDK before the rest of the development community and have the ability to offer their consumers a chance to win $5,000, at no cost or risk to the company.
By offering enticing cash and prizes such as $100,000 or a new car through The Prize SDK, web, app and game developers will be able to broaden the campaign's reach and influence desired consumer behavior such as increasing downloads and game purchases, registrations, shares, and time spent playing. The opportunities for players to win are customizable based on marketing campaign goals and can be programmed to offer various prize levels. Companies that tie in promotional risk coverage simply pay for a small fraction of the prize value; CataBoom pays the grand prize when there is a winner.
Tony Ebert, CataBoom Director said, "With an increasing number of mobile apps and games flooding the marketplace, it is becoming increasingly difficult to stand out. Since it is all about influencing behavior for online, social and mobile, The Prize SDK will allow games to rise above the competition and become a fully integrated marketing campaign."
Chris Hamman, Vice President of SCA Promotions added, "We are excited to partner with CataBoom and help marketers and developers quickly add in the ability to meet their marketing objectives. All the legal is already done; it's just plug-and-play to add in a promotion."
The Prize SDK will streamline promotional incentives and will be able to launch within online, mobile and social outlets. It will contain a standard API as well as sample code for iOS, Android, or PHP platforms. It also allows access to reporting and campaign management tools, as well as documentation on all the supported development languages.
Registration begins today for the chance to participate in beta testing and qualify for the free offer. Visit http://www.cataboom.com to register.
###
About CataBoom
Founded in 2012, CataBoom is a marketing technology company based in Dallas, Texas. The Prize SDK is a solution that allows developers to quickly integrate a sweepstakes offer or an instant chance to win up to $1 million to their online, social or mobile-based games or applications. The ability to reward specific consumer behaviors by adding a powerful incentive gives developers a fully integrated marketing campaign. The Prize SDK is currently offered on the PHP, iOS, and Android platforms.
About SCA Promotions
Dallas-based SCA Promotions delivers promotional solutions and incentives that connect with consumers, without risk to the sponsor. For more than 27 years, SCA has offered an entire suite of advanced, interactive promotions, instant win promotions, record-breaking sweepstakes, and inventive games designed to engage and motivate. SCA has covered billions of dollars in prize coverage and paid out more than $177 million in cash and prizes for sales and consumer product promotions, lottery and casino jackpots, radio contests, direct mail, Internet, and sports promotions. SCA has offices in Dallas, London, Las Vegas, and Calgary, with affiliate partners across the globe.