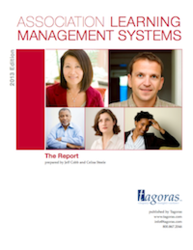 With member expectations growing, making the right LMS decision is more important than ever.
Carrboro, NC (PRWEB) May 01, 2013
Trade and professional associations face an increasingly complex set of choices in deciding upon the right learning management system (LMS) to support their missions. With member expectations also growing, making the right decision is more important than ever. Beginning in May, Tagoras and Meridian will launch a series of webinars designed to help associations understand issues surrounding LMS selection, cloud technology, and mobile platforms.
The first one-hour webinar, titled "Selecting a Learning Management System: Picking the Right Technology for Your Association's Vision," takes place on May 9, 2013, at 1 p.m. EDT. Register for free at https://www3.gotomeeting.com/register/612885654.
The presenters are Celisa Steele and Jeff Cobb, principals with Tagoras, and Jason Marceau, chief operations officer with Meridian Knowledge Solutions. The Webinar will cover the most fundamental factors trade and professional associations should keep in mind when selecting a learning management system.
"Learning management systems are an increasingly important part of association business models," said Tagoras managing director of publications Celisa Steele, "but the needs of these organizations differ significantly from those of academic and corporate users. The 7-step process we'll cover - the same one we use with our own consulting clients - helps ensure those needs are met."
Attendees will receive a checklist of key questions to ask prospective vendors and will leave the session with a clear understanding of how to develop appropriate use cases and what to expect in the LMS selection process.
Other Webinars in the Tagoras/Meridian series include:
"Clearing Up the Cloud: What Is It—and How It Impacts Your Learning," June 13, 2013
"How Mobile Impacts Your Organization's Learning and Marketing of Learning," July 18, 2013
Check back for upcoming registration information at http://www.tagoras.com/webinars.
###
Tagoras provides expert strategy, marketing, and technology guidance to organizations in the business of continuing education and professional development. Its consulting clients have included the American Institute of Certified Public Accountants, the American Physical Therapy Association, the Healthcare Financial Management Association, the National Institute of Governmental Purchasing, the Society of Critical Care Medicine, and Castle Worldwide. Its research publications include Association Learning Management Systems, Association Learning + Technology: State of the Sector, and Association Virtual Events.