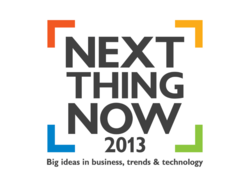 Wilmington, DE (PRWEB) May 02, 2013
The Company Corporation®, the leader in helping small businesses incorporate and form limited liability companies (LLCs), will bring authors and business world rising stars Adam Grant and Jonah Berger to Wilmington on Wednesday, May 15, as part of the Next Thing Now speakers' series.
At 31, Adam Grant is the youngest tenured professor at the University of Pennsylvania's Wharton School, and a leading expert on success and workplace motivation. His research was the subject of a recent cover story in The New York Times Magazine.
Grant's new book, Give and Take: A Revolutionary Approach to Success (Viking, 2013), has drawn praise from bestselling authors including Daniel Pink, Tony Hsieh and Gretchen Rubin, as well as from senior leaders at Google, Merck, Nike and Estée Lauder. Advance press for Give and Take says the book "demolishes the 'me-first' worldview and shows that the best way to get to the top is to focus not on your solo journey but on bringing others with you."
Sharing the stage with Grant will be Jonah Berger, fellow Wharton professor and author of Contagious. Berger studies "social epidemics," or how products, ideas, and behaviors catch on and become popular—including why certain online content goes viral. Berger's work has been covered in The New York Times, Wall Street Journal, Wired and Harvard Business Review and on National Public Radio. His research was the subject of an article in the April 2013 issue of Fast Company.
Grant and Berger's May 15 appearances in Wilmington will take place at The Chase Center on the Riverfront, convenient to I-95. The event promises to be a "deep dive" into the two men's research and their findings on workplace behaviors and marketing success. It runs from 8 a.m. to 11 a.m., with networking opportunities between 8 and 9 a.m. Every attendee will receive a copy of Adam Grant's new book, Give and Take, and Jonah Berger's book, Contagious.
"Next Thing Now" is a series of action-oriented, inspiring, skills-building events sponsored by The Company Corporation, the small business division of Corporation Service Company (CSC). Attendees can expect to come away energized and inspired, with proven strategies to sharpen their business skills and accelerate their effectiveness.
Seats are limited (the last event, featuring author Dan Pink, sold out), so get your tickets early. Visit http://www.nextthingnow.co to learn more.
About The Company Corporation
With more than 500,000 businesses formed, The Company Corporation® provides affordable incorporation services to small businesses and entrepreneurs nationwide. In addition to filing corporations and limited liability companies (LLCs) in all 50 states and the District of Columbia, The Company Corporation offers a wide range of products and services, including license and permit assistance, corporate kits, business education books, certificates of good standing, Registered Agent services, and business start-up services. Based in Delaware, The Company Corporation serves small business owners nationwide through its websites, http://www.incorporate.com and http://www.llc.com.