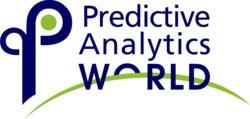 Chicago, IL (PRWEB) May 02, 2013
The full agenda is now live and kicking for Predictive Analytics World (PAW) Chicago (June 10-13, 2013), with some of the hottest speakers in analytics scheduled to deliver keynotes. Practical application is the overarching theme, with all three speakers taking attendees behind the scenes of their success.
Of particular interest is Analytics and the Presidential Elections, a keynote by Rayid Ghani, Chief Data Scientist for Obama for America. Ghani will be revealing how his team used analytics to improve decision-making on every aspect of the campaign – from fundraising and media targeting to volunteer recruiting and mobilization.
Attendees will also have the chance to engage in a discussion with Stephen Gold, VP of Worldwide Marketing at IBM. In his keynote, Putting IBM Watson to Work, Gold will demonstrate how businesses are employing the world class Jeopardy! Player (and its predictive modeling skills) in some surprising industries.
Ghani and Gold are joined by Brett Goldstein, Chief Data Officer for the City of Chicago. In Lessons from Year 2: Operationalizing the Principles of Predictive Analytics, Goldstein will discuss tools and tactics used for projects such as:

Citywide data documentation
A common operating platform using geospatial capabilities
A framework to predict service needs around Chicago
With four days of 20+ sessions, intensive workshops, expert panels and a raft of social events, PAW Chicago 2013 is the premier conference for predictive analytics practitioners.
As a networking plus, PAW Chicago is co-located with eMetrics Summit, Conversion Conference, Context Conference and Integrated Marketing Summit (IMS).
REGISTRATION:
Register for PAW Chicago (June 10-13, 2013).
View the full agenda and see all the in-depth sessions available.
About Predictive Analytics World (PAW)
Predictive Analytics World focuses on concrete examples of deployed predictive analytics. Hear from the horse's mouth how Fortune 500 analytics competitors and other top practitioners deploy predictive modeling, and what kind of business impact it delivers.
About Rising Media
Rising Media is a global events producer excelling in Internet and technology-related conferences and exhibitions. Rising Media-produced events include Data Driven Business Week, eMetrics Summit, Context Conference, Conversion Conference, DemandCon, Predictive Analytics World, Text Analytics World, Affiliate Management Days, Building Business Capability, Social Media Economy Days, Web Effectiveness Conference, Search Marketing Expo, SemTech and Social Gaming Summit in the US, Canada, UK, France, Germany, Sweden, Finland and Australia.