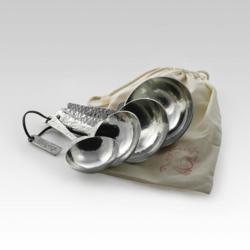 It stands to reason that mothers of children of any age would love to receive sentimental Mother's Day gifts.
Meridian, Idaho (PRWEB) May 03, 2013
Mothers of small children seem quite delighted to receive macaroni necklaces, handmade art and coupon books of I.O.U.s. It stands to reason that mothers of children of any age would love to receive sentimental Mother's Day gifts.
This May 12, to give a Mother's Day gift inspired by fond memories or that will inspire the making of new memories, consider these ideas for a memorable Mother's Day gift from rosieMADE:
•For those with happy memories of helping Mom in the kitchen, give her heirloom quality, stainless steel measuring cups and spoons from Crosby & Taylor, a beautiful, eco-friendly apron from A Greener Kitchen or a pie plate from Clay in Motion and spend a day baking together.
•Mothers have a tendency to forget to allot time for relaxation and pampering. Give an overworked mom a calendar with some "me time" scheduled into it. If she is the type who has no idea what to do with free time, give her bath products from Beau Bain,pampering products from Mathair Earth, or soothing lavender botanicals from Pelindaba Lavender.
•To bring back memories of bonding over tea parties, give Mom a handmade ceramic mug from Clay in Motion and organic tea from Octavia Tea, and make some time to sip tea together this Mother's Day.
•In the tradition of the macaroni necklace, give her handmade glass jewelry from LB Originals. She really will want to wear these original pieces, and they will always remind her of the loving child who gave them to her.
•Does Mom have a sweet tooth? If there's a special treat she loves or something she always used to make, learn the recipe and make your mom a special Mother's Day dessert. For those who aren't a whiz in the kitchen, give her handcrafted chocolate from Dream Chocolate or other sweet and spicy treats from Cowgirl Chocolates.
For information on any of these items, visit the rosieMADE Mother's Day Gift Guide.
Rush Shipping is available.
About:
RosieMADE, LLC is an online retailer and resource for products made by women in the USA. Go to rosieMADE.com for original gift ideas and to learn more about what it means to give a USA-made gift from rosieMADE.