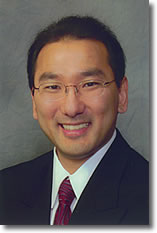 Fremont, CA (PRWEB) May 01, 2013
Dr. Colin Yoshida has joined the one percent of dental professionals in the country by providing the revolutionary Laser Assisted New Attachment Procedure for periodontal disease treatment. This minimally invasive procedure treats periodontal disease without removing healthy gum tissue. LANAP is an innovative new alternative to traditional gum surgery that is less painful for patients. Typically, patients who undergo LANAP will experience less time in the dental chair, a shorter recovery period, and minimal gum recession.
With this new procedure, Dr. Yoshida utilizes a laser to eliminate bacteria and sterilize the area where the bacteria resided. There is no need to cut away healthy gum tissue to get to the problem, because LANAP is very selective and only attacks the bacteria and gum tissue that has become diseased. Bleeding is minimal, and the laser stimulates clotting to help seal the gums to the roots. At this point, they can begin to reattach. The laser also stimulates bone growth.
Many people do not realize the serious health consequences of gum disease. It has been linked to problems such as low birth-weight babies, heart disease, and pancreatic cancer. Patients requiring periodontal disease treatment no longer need to stress about the invasive surgery and extensive healing that comes with traditional methods of treatment. Dr. Yoshida hopes that with LANAP, many patients that have gone untreated will now come forward and get the periodontal disease treatment that they need.
Periodontal disease can be controlled through LANAP, and teeth slated for extraction may be retainable, because the laser technique actually helps stimulate bone regeneration. The laser procedure helps patients recover in a relatively short period of time. The LANAP technology gives patients an alternative to traditional periodontal surgery to control gum disease and save teeth. To learn more about Dr. Yoshida and the LANAP procedure, visit http://www.fremontdentistry.com.
Fremont Dentistry is a general practice offering personalized dental care for patients in Fremont, CA. Dr. Colin Yoshida graduated from University of the Pacific School of Dentistry and is part of one percent of dental professionals providing the only FDA cleared laser procedure for gum disease and periodontal treatment. To learn more about Fremont Dentistry and their dental services visit their website at http://www.fremontdentistry.com.