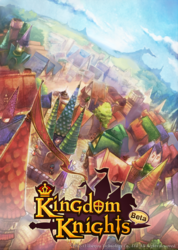 Subversion for the traditional Facebook social game, Kingdom Knights adds various attractive elements into the game.
Taipei, Taiwan (PRWEB) May 07, 2013
"Kingdom Knights'' is a combination of RPG and SLG together into an online social game that breaks the traditional impression of the Facebook game. As a Facebook social game, it retains characteristics of RPG as well as SLG elements and yet adds unique features called Sphere World for visual appeal improvement.
Kingdom Knights is inviting all players to join the journey through exciting plot combining battle and simulation with vivid narration in a nostalgic medieval age.
A Well-Polished Flavor
The Sphere World in Kingdom Knights illustrates an unprecedented and magnificent overlooking view of its town. It has beautiful Japanese anime style characters, scenery design, and a collective motif of the 'Medieval Age' and the 'Chivalry and Dragons'. The atmosphere of this fantasy world is also one of the key features of the game.
Simple but Fascinating Battle
When it comes to combat gameplay, it is difficult to satisfy both causal and hardcore players. But still, Kingdom Knights is aimed to overcome this barrier and meet the need of all players.
When in the battle mode, each combat unit consists its own strength and weakness status. Players will soon find out that there are still many factors such as level of weapon, equipment upgrade, mercenaries recruit, new skills, allies reinforcement, tactics items, army positions and etc.; elements that would affect the battle result are waiting for players to discover throughout the game.
Getting too complicated? Maybe, but to take care of all players of different ages, Kingdom Knights provides a comprehensive voice narration to guide players step by step throughout the gameplay.
Devil in the Details
Like most typical social games, there is a limitation of energy for how many actions players can actually make in one round, which may vary from one to another, to create simple but at the same time challenging and indulging strategic gameplay.
Noticeably, Kingdom Knights has increased the level of strategic elements in the game more than any other does, which is undoubtedly a challenge for an online social game. However, UserJoy Tech believes as the development of the social game continues and as the number of online players increases, it is an inevitable path for every game developer to develop higher quality, better visual design and in-depth social game in order to attract more game players in the future.
Userjoy Tech has extracted the key essence of classic role-playing and simulation games into Kingdom Knights, along with refined visuals design that fits nicely in the Facebook social game. All these efforts make Kingdom Knights a game worth trying out.

It is recommended to use on Google Chrome for the best performance possible. For Firefox, NoScript Kit and Javascript, plug-ins are required.
"Kingdom Knights" is now available at the Facebook App Center:
https://www.facebook.com/KingdomKnightsFans
Watch the "Kingdom Knights Trailer" on YouTube:
http://www.youtube.com/watch?v=BltJvmdBsEQ
Find out more information on "Kingdom Knights Fans":
http://www.facebook.com/KingdomKnightsWorld