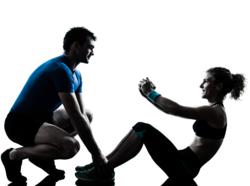 (PRWEB UK) 2 May 2013
They say fitness is a state of mind. But training with highly skilled, dedicated personal trainers can make the task of building a new body a lot more manageable. An elite of fitness trainers now preach mind, body, diet and lifestyle for a roster of exclusive clients. CryoClinics highlights five of the best:
1. Brad Bose
Halle Berry liked Brad Bose's personal training so much that she moved in with him for three years. When Robert Downey Jr needed to upgrade his physique, he invited Bose to come and stay at his London townhouse in preparation for Iron Man 3. Brad Bose offers personal wellness training aided by wife Natasha renowned for her Swedish skin care. Clients can either travel to their base in southern California, although many, like Berry, invite the Bose's to join them domestically. Prices are exclusively negotiated on an individual basis.
See http://www.bosemanagement.com/
2. Sebastien Lagree – The Scientific Approach
Frenchman Sebastien Lagree has become renowned for his innovative combination of weight training and Pilates. Schooled at Seattle University, where he scored an MBA, Lagree isn't just a trainer; he's a fully-fledged entrepreneur and inventor. What distinguishes him from his rivals is that he develops, manufactures and distributes his own fitness equipment. To hire Lagree you again must negotiate an exclusive fee and travel to his "papparazi-unfriendly" exclusive studio in Santa Monica, where it helps to be connected, Ben Stiller is a recent client, Nicole Kidman and Oprah huge fans. However because of his range of fitness partnership, clients can buy into the the Lagree philosophy in studios across the US and in Sydney, Hong Kong and Toronto.
See http://www.lagreefitness.com/
3. Dan Roberts - the athletic option
Fancy abs like David Beckham? No problem, Dan Roberts training offers just that. Based on a number of personalised "signature" packages tailored to individual clients needs. As well as on Beckham's abs, Roberts works with supermodels and top athletes and counts Oscar winners and gold medalists among his exclusive clientele and is described "personal trainer to the stars" by Vogue Magazine. Roberts offers a holistic approach: his team includes nutritionists, psychologists and osteopaths, as well as the hard-bodied Katt Starr Johnson, a leading UK athlete in her own right. The cost of a new body? A 100-day body transformation package, including three hours of training a day, five days a week, is £30,000. Hourly rates begin at £175.
See http://www.danrobertstraining.com
4. Matt Roberts
Matt Roberts has a client roster that reads like the guest list for an A-List party. Tom Ford, Naomi Campbell, John Galliano, Trudi Styler, Amanda Holden and Mel C are but a few names to grace his purpose-built premises in Hampstead and Chelsea. He's even a bit of a star in his own right, appearing as a fitness presenter on BBC Breakfast, as well as on shows as far afield as Germany and Canada. Roberts offers the best results in just 10 days and for an intense package his studio charges £680, while a longer muscle building programme is £1,995.
See http://www.mattroberts.co.uk
5. Dax Moy
Dax Moy doesn't just promise you a brand new body -- he personally guarantees it. If he doesn't "deliver amazing results AND an amazing experience" the fee will be refunded. Moy's brand of personal training with integrated coaching, includes advice on nutrition, but also advice on lifestyle, goals, motivation, nutrition, sleep cycles and bio-mechanics. Moy is known for a super-strict "my-way-or-the-highway" regime. But even so he has garnered an impressive client list of pop stars, explorers, athletes and multi-platinum musicians prepared to stump up the £200 hourly rate.
Personal training has been transformed in recent years from the muscle-bound kings of pain of yore. The mantra of "no pain no gain", while still having its place, is not the sole focus. The emphasis is on a fully holistic integrated approach taking in mind, diet and body with as much attention paid to muscle recovery as there is on the time spent training.