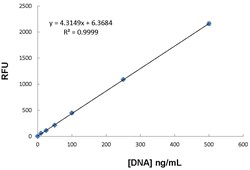 Solon, Ohio (PRWEB) May 06, 2013
DNA quantitation is crucial to experimental design and interpretation of results, especially in sensitive molecular biology applications such as PCR, or for any comparative analysis of multi-source DNA samples. Although UV spectrophotometric measurement at 260 nm is the most widely practiced method of DNA quantitation, it is limited by high background interference from common impurities, such as RNA and protein. Better accuracy and sensitivity can be achieved using AMRESCO's new Fluorescent DNA Quantitation Kit. The kit utilizes the fluorescent DNA intercalator, bisBenzimide H33258, otherwise known as Hoechst dye, and a simple method that may be easily scaled for a single cuvette or for high throughput in multi-well plates.
AMRESCO's Fluorescent DNA Quantitation kit includes Fluorescent DNA Dye Solution, Fluorescent DNA Standard and Fluorescent DNA Assay Buffer, 10X in volumes sufficient to perform up to 750 reactions. Assays are performed by fluorometric reading of a DNA standard series and unknown samples prepared in diluted Fluorescent DNA Dye Solution. The selective binding of the bisBenizimide H33258 dye to A-T base pairs results in significant fluorescent emission at 460 nm in the presence of DNA. The dye has low affinity for RNA, which improves specificity and sensitivity of the assay results when using impure samples. The assay also tolerates protein contamination that may be present in crude extracts and various buffer compositions commonly used in DNA extraction. The sensitivity of DNA detection with AMRESCO's Fluorescent DNA Quantitation Kit ranges from the low nanogram range (10 ng/mL) up to 5 micrograms per mL.
For more information about the Fluorescent DNA Quantitation Kit or any other AMRESCO products, visit http://www.amresco-inc.com or call 1-800-448-4442.
AMRESCO is a manufacturer and supplier of high quality biochemicals and reagents for molecular biology, life sciences, proteomics, histology and clinical areas of research. The company is ISO certified to ensure customers receive the highest quality products.