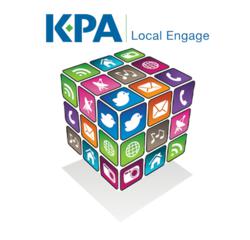 Your strategy should include a partner that lives on social media on your behalf.
Lafayette, CO (PRWEB) May 06, 2013
KPA announced today the launch of their boosted social media management system, KPA Local Engage. Dealerships are challenged to monitor and manage their online reputation to help preserve a strong social presence; KPA Local Engage combines experienced social media consultants and advanced software to help foster their client's social media strategy.
A constantly changing entity, social media requires relentless review. KPA Local Engage stays on the cutting edge of media on the user's behalf, through the use of highly-trained social media experts, rich, unique content, honest engagement, and management of advertising budgets. Key features include complete profile management, 7 day coverage, immediate engagement with leads and comments direct to the dealership, daily postings on major social media channels, live monitoring of reputation websites, and unique local social media interactions.
"Social media doesn't sleep. It doesn't take the weekends off. In fact, the weekends are the busiest for social media. Your strategy should include a partner that lives on social media on your behalf," JD Rucker, Director of Digital Marketing, KPA. Local Engage integrates a multitude of social media sites, allowing for expansive engagement within your local community
KPA Local Engage Key Features
1. Complete Profile Management
• Facebook – Wall posts, Facebook advertising & management, interactions
• Twitter – Tweets, retweets, replies, direct messages
• Google+ – Stream posts, interactions, dealer website links
• Pinterest – Pins, repins, likes
2. 7-Day/Week Posting and Monitoring
• Posts are made 365-days per year
• Accounts are monitored 7-days a week by real people, not software
3. Local Promotion of the Dealership's Brand
• Pinpoint strategy puts all efforts on building your local following only
• We proactively seek those in your community who are in the market or will be soon.
4. Expert Social Media Team
• Unique fan-building content
• Management of reviews, comments, and online interaction
Auto dealers compete for leads in any form. In today's market, consumer perception is often based on social media visibility and status. "There are billions of social media users worldwide. We only care about the ones who can come in and buy a car from you," Richard Valenta, Vice President of Internet Marketing Products, KPA. Local Engage's live social media management helps to create an action plan to relieve pressure from dealership teams.
About KPA
KPA is a dealer services and Internet marketing provider for over 5,000 automotive, truck, and equipment dealerships and service companies. KPA provides consulting services and software for three industry-specific product lines: Environment & Safety, HR Management, and Internet Marketing. KPA joined the Inc. 500/5000 list of fastest growing companies in 2012. For more information, visit http://www.kpaonline.com.