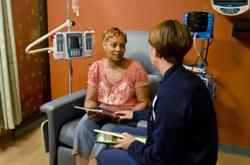 "Each of these facilities is not just meeting nationally recognized standards for the delivery of quality cancer care, they are exceeding them."
Abington, PA (PRWEB) May 09, 2013
The Commission on Cancer (CoC) of the American College of Surgeons(ACS) has granted a 2012 Outstanding Achievement Award to The Rosenfeld Cancer Center at Abington Memorial Hospital,one of only 79 cancer programs in the U.S. to earn this award and one of only three in Pennsylvania. Award criteria were based on qualitative and quantitative surveys conducted last year.
The CoC Outstanding Achievement Award (OAA) is designed to recognize cancer treatment programs that strive for excellence in providing quality care to cancer patients. A facility receives this award following the on-site evaluation by a physician surveyor during which the facility demonstrates a Commendation level of compliance with seven standards that represent the full scope of the cancer program. The facility must also receive a compliance rating for the remaining 29 standards.
"On behalf of the men and women of The Rosenfeld Cancer Center and our extraordinary hospital, we are very proud to achieve this honor from the Commission on Cancer," said John Redmond, III, MD, director, The Rosenfeld Cancer Center at Abington Memorial Hospital. "This recognizes our multi-modality, evidence-based program through which we bring patient-centered care to our community. "
The standards that form the basis of the OAA criteria are drawn from the following areas of program activity:

cancer committee leadership
cancer data management
clinical management
research
community outreach
quality improvement
According to Daniel P. McKellar, MD, FACS, chair of the CoC, "More and more, we're finding that patients and their families want to know how the health care institutions in their communities compare with one another.
"These 79 cancer programs surveyed in 2012 currently represent the best of the best—so to speak—when it comes to cancer care," he said. "Each of these facilities is not just meeting nationally recognized standards for the delivery of quality cancer care, they are exceeding them."
The 79 award-winning, cancer treatment programs represent approximately 19 percent of programs surveyed by the CoC in 2012, according to the Commission on Cancer. Recipients include teaching hospitals, community-based facilities, National Cancer Institute-designated Comprehensive Cancer Centers, Veterans Administration hospitals, and Network Cancer Programs.
About Abington Memorial Hospital
Abington Memorial Hospital is a 665-bed, acute care teaching hospital with a medical staff of more than 1,100 physicians and more than 5,600 employees. These professionals provide medical care and health services to residents of Bucks, Montgomery and Philadelphia counties.
A regional provider, Abington Memorial Hospital has the only Level II accredited trauma center in Montgomery County and offers highly specialized services in cardiac care, cancer care, neurosciences, orthopaedics, home health and maternal/child health.
About the American College of Surgeons Commission on Cancer
Established in 1922 by the ACS, the CoC is a consortium of professional organizations dedicated to improving patient outcomes and quality of life for cancer patients through standard-setting, prevention, research, education and the monitoring of comprehensive quality care. The CoC provides the public with information on the resources, services, and cancer treatment experience for each CoC-accredited cancer program online at: ACS Cancer Program Accreditation.
The CoC's accreditation program encourages hospitals, treatment centers and other facilities to improve their quality of patient care through various cancer-related programs. There are currently more than 1,500 CoC-accredited cancer programs in the U.S. and Puerto Rico, representing 30 percent of all hospitals. CoC-accredited facilities diagnose and/or treat more than 70 percent of all newly diagnosed cancer patients each year.