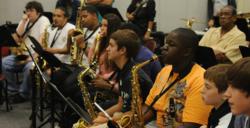 New Orleans, LA (PRWEB) May 07, 2013
The College of Music and Fine Arts at Loyola University New Orleans will host two jazz camps this summer.
The annual Loyola Summer Jazz Band Camp runs June 16-20. The program provides opportunities for students to increase their skills, understanding and appreciation of jazz by working closely with the Loyola jazz faculty for masterclasses, private lessons, improvisation and combinations with different instruments. Students also have the opportunity to attend evening concerts featuring Loyola faculty members and special guests.
The camp is open to non-beginners who have completed the grades 7 through 12 and who play piano, bass, guitar, drums or brass, woodwind or string instruments. Tuition is $200 for commuting students or $340 for students who also require room and board. The registration deadline is May 17. For more information, contact Loyola's Coordinator of Jazz Studies at mahoney@loyno.edu and 504-865-2164.
The 19th annual Louis "Satchmo" Armstrong Summer Jazz Camp, slated for July 1-19, offers intense music education classes to young student musicians between the ages of 10 and 21 years old. Students must be actively involved in a music education program in school or through private instructions. To qualify, students must also have a minimum of two years music study experience.
The camp features guest artists-in-residence Kevin Eubanks and Norma Miller. Eubanks, an American jazz and fusion guitarist and composer, was the leader of Jay Leno's The Tonight Show Band from 1995 to 2010. Miller is an American swing dancer whose lengthy career has included collaborations with a variety of performers and musicians, including Ella Fitzgerald, Count Basie and Duke Ellington, among others. More information on "Satchmo" camp offerings, auditions and fees is available online or by calling 504-715-9295.