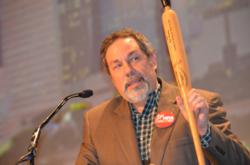 Speak softly and carry a big stick.
Houston, Texas (PRWEB) May 04, 2013
In his remarks to nearly 2,000 people attending the NRA Foundation banquet, May 2, 2013, on the eve of the National Rifle Association's Annual Meetings and Exhibits in Houston, Texas, Mike Fuljenz encouraged attendees to follow the century-old advice of U.S. President and NRA member, Theodore Roosevelt.
"Speak softly and carry a big stick," Fuljenz said quoting Teddy Roosevelt's famous 1900 recommendation. Fuljenz also emphasized that despite some news media portrayals of the NRA as being "controlled by gun manufacturers," the organization is broad-based with diverse corporate backing and millions of proud members who should let lawmakers know they support gun ownership with sensible safety regulations.
Known as America's Gold Expert®, Fuljenz is President of Universal Coin & Bullion in Beaumont, Texas, the Official Bullion and Rare Coin Dealer of the NRA.
In separate meetings in Houston on May 3 with Texas Congressmen Steve Stockman (R-36th District) and Randy Weber (R-14th District), Fuljenz discussed the need for sensible gun safety laws and enforcement of those laws that allow Americans to continue to enjoy their Second Amendment rights as provided by the U.S. Constitution.
"Both sides in the gun safety debate must bring 'skin to the game' to achieve progress and get results on these important issues. Many on the left want to see expanded background checks for gun buyers, while many on the right believe that expanded voter I.D. is similarly legitimate. Both sides want more government control and efficiency, but only when it comes to their favorite concern," Fuljenz pointed out.
"Another case of selective regulation is when the White House shows no interest in upsetting their supporters by trying to control the gun violence portrayed in movies and video games."
Fuljenz made a personal donation of $5,000 as part of his continuing support for the NRA's Eddie Eagle GunSafe® Program that educates children about gun safety and what to do if they find a gun ("Stop! Don't touch. Leave the area. Tell an adult."). His earlier contributions helped fund an educational gun safety video for children.
During the NRA meetings in Houston, May 3 - 5, Fuljenz was a featured speaker at two Freedom First Financial Seminars discussing diversification of investments and why he believes gold is vital for long-term financial stability.
A community leader in his hometown of Beaumont, Texas, Mike Fuljenz is an award-winning numismatic author of books and newsletters about rare coins and precious metals. He is a frequent interview guest on radio and TV news and personal finance programs and a Benefactor Member of the NRA. He co-sponsored the 2013 NRA Foundation banquet and the NRA prayer breakfast.
For additional information about Universal Coin & Bullion, visit online at http://www.UniversalCoin.com or call (800) 459-2646.