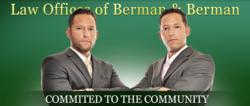 Tallahassee Personal Injury Law Services Now Offered by the Berman Law Group
Tallhassee, Florida (PRWEB) May 04, 2013
Utilizing a team of highly skilled, energetic and experienced Tallahassee personal injury attorneys that are committed to providing superior legal services and achieving extraordinary results for victims of serious personal injury. This process is achieved by guiding each client personally through all the legal implications of any personal injury they may have experienced. The attorneys of Berman and Berman, put both the aspects of well-being, and compensation, as top priorities. It takes more than a fancy suit and shiny shoes to be an expert lawyer. The high pressure environment of personal injury law is constantly changing. Realizing this, The Berman Law Group builds each clients' case with detailed accuracy, as well as compassion.
Personal injuries occur when an individual sustains physical harm as a result of the willful or negligent behavior of another. The law holds irresponsible people and entities accountable for their actions, allowing injured victims to recover damages that resulted from the accident. Berman and Berman realizes that these are trying times for both clients and their families, who are facing health problems as well as mounting medical costs. By providing efficient, compassionate service, they strive to lessen that burden.
Berman Law Group is committed to being a part of the solution to strengthening the legal system. This is accomplished by cracking down on those who commit negligent acts, and holding each party responsible for those results. Realizing the complexity of a personal injury legal claim, Berman and Berman continues to fight efforts that are designed to let corporations evade their legal responsibilities, even when there is gross negligence. Handling each case on an individual basic, the attorneys oppose efforts that would weaken basic legal protections and further stack the deck against the average person.
To contact the Personal Injury Law Offices of Berman and Berman call 1-(877) 529-8995 or visit their website found at http://lawyerinjuryaccident.com/. They are available 24 hours a day via email, phone, or live chat on their website.