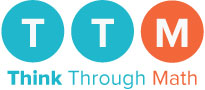 The result is that students make measurable gains and their entire outlook improves
Pittsburgh, PA (PRWEB) May 06, 2013
Adaptive, online learning program Think Through Math has announced that, on a typical school day in Spring 2013, students completed between three and four million problems.
Featuring a supplemental Common Core curriculum for grades 3 through Algebra l, Think Through Math provides Web-based instruction that motivates students in unprecedented ways. Designed to support schools and school districts as they adopt personalized and blended learning environments, Think Through Math delivers engaging, math content to students, while allowing teachers to provide more individualized attention based on each student's needs.
"As students discover that Think Through Math helps them get better at math, it also helps them see that they the capacity to enjoy math," says Kevin McAliley, CEO of Think Through Learning Inc. "The result is that students make measurable gains and their entire outlook improves."
With unprecedented motivational tools and personalized instruction, TTM is changing the way students learn math. "Think Through Math was built on the theory that engaged students are interested students. The goal of the program," says McAliley, "is to prepare students for more rigorous mathematical standards and accelerate them to grade level as efficiently as possible."
TTM integrates compelling online instruction and practice with proven teacher-driven practices. As students work on the program they receive immediate corrective feedback. If they continue to struggle, they are connected to certified, bilingual math teachers who can further differentiate and personalize instruction.
"This level of personalization is unprecedented," says McAliley. "It explains why TTM students persevere and invest the time and effort that's necessary in mathematics."
About Think Through Learning Inc.
At Think Through Learning, we believe that success in mathematics transforms the way students perform in school and beyond. We are driven to motivate students in unprecedented ways. We have a vision of effective education: a powerful blend of web-based, adaptive instruction and LIVE, state-certified teachers. We champion innovation, teacher effectiveness, college and career readiness, school improvement, data-informed instruction, and cutting edge applications for virtual learning.