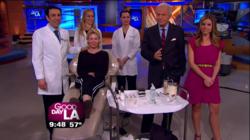 Los Angeles, CA (PRWEB) May 04, 2013
According to an article in the May 2013 issue of the Plastic and Reconstructive Surgery Journal of the American Society of Plastic Surgeons, one-half of the plastic surgeons surveyed anonymously reported being regular social media users. Facebook was by far the most popular platform, followed by LinkedIn, Twitter and YouTube. (go to: goo.gl/VhGvt)
The authors of the report noted that the top three reasons given for the use of social media are "incorporation of social media into medical practice is inevitable (56.7 percent), effective marketing/advertising tool (52.1 percent), and provides a platform for patient education (49 percent)."
"I'm a bit surprised at the number one reason given for use of social media," says Dr. Simon Ourian, Medical Director of Epione Beverly Hills. "That says to me that most plastic surgeons use social media because they feel they have no other choice or they'll be left behind. I would have expected a more forward thinking response. Social media is a fantastic opportunity to communicate with the public; it's a great venue for promoting safe, effective solutions to aesthetic issues."
Also reported, nearly one-third of respondents stated that they'd limited their use of social media due to concerns about patient confidentiality. Further, nearly one-quarter of plastic surgeons surveyed felt there should be oversight or monitoring of their use of social media to ensure ethical online behavior.
"I absolutely agree with the ethical concerns reported in the survey," says Dr. Ourian. "It's important to note that California, for example, has legal guidelines in place for physician advertising. I expect this is the case in most, if not all, other states."
Dr. Ourian has been a pioneer in laser technology and non-invasive aesthetic procedures including Restylane, Juvéderm, Radiesse and Sculptra. These treatments are used for the correction or reversal of a variety of conditions such as acne, acne scars, skin discoloration, wrinkles, stretch marks, varicose veins, cellulite, and others. More information about plastic surgery can be found on Epione's website.