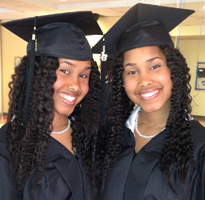 Atlanta, Georgia (PRWEB) May 06, 2013
Identical twins Kirstie and Kristie Bronner, C'2013, have been named co-valedictorians for the Spelman College Class of 2013. With a 4.0 GPA, the Bronners are the first twins to receive the designation in the history of Spelman.
"Being co-valedictorians of our class is very exciting and a blessing for us," said Kirstie.
Following graduation, Kristie and Kirstie, both music majors, plan to join the youth ministry at Word of Faith Family Worship Cathedral in Atlanta, pastored by their father Bishop Dale Bronner. In between directing youth events and counseling in the music department, they look forward to recording a contemporary Christian CD. On the heels of the CD, they want to pen a book offering advice to high school students about achieving academic success in college and beyond.
The Bronners attribute their academic achievement to a disciplined study routine, time management and their faith. "We maximized our study time," said Kirstie. "People would ask us 'do you want to go do this or that on a weekday' and the response was an automatic 'no.' We saved recreation for the weekend. Our philosophy was and is, pay now and play later."
Added Kristie, "We prayed before every homework assignment and before every exam. We can sum up our progress with the saying, 'Work like it's all up to you and pray like it's all up to God.' Prayer accounts for things you can't do. What you are able to take responsibility for, do it. Don't act like God is suppose to do it all for you."
The sisters are third-generation Spelman graduates. As youngsters, they looked up to their mother, Nina Cobb Bronner, C'85, and grandmother, Dorothy Gibson Cobb, C'56, and naturally wanted to continue the Spelman tradition. However, Kirstie changed her mind in high school and wanted to go to a school with more diversity. Her perspective shifted when the sisters took part in a National Society of High School Scholars campus tour of Spelman their senior year.
"When I heard the whole idea behind [Spelman's mission] 'a choice to change the world,' I realized Spelman was the place for me," Kirstie said. "The experience of being here and hearing that Spelman emphasized leadership, community service, legacy, and changing the world was an affirmation because those things had been instilled in us throughout our lives. It clicked with who I was and made me realize this was a place I needed to be."
The Bronners rounded out their academic career by studying music abroad their junior year in Milan, Italy as part of the Institute for the International Education of Students. It's an experience Kristie described as "one of the more enriching semesters of my life." They joined the Spelman College Glee Club their first year, and each earned a leadership position within the Glee Club by their senior year – Kirstie as a section leader and student conductor and Kristie as a section leader and chaplain.
"Spelman has emphasized not just the academic side but the development of the overall person," said Kristie. "There is a nurturing environment here that establishes a foundation on which you can stand. It's been a nurturing environment for my overall growth as a Black woman."
Shay Johnson, C'2013, has been named salutatorian for the Class of 2013, earning a 3.94 GPA. Johnson, a native of Marietta, Ga., is a political science major with a Spanish minor. She plans to attend Harvard Law School in fall 2013 and specialize in international law. Johnson wants to transition her interest in human rights into a career litigating in the area of corporate social responsibility.
Spelman College's 126th Commencement will be held Sunday, May 19 at 3 p.m. at Georgia International Convention Center. Baccalaureate service will take place Saturday, May 18 at 9 a.m. at Spelman. Learn more about commencement activities and speakers.
About Spelman College
Founded in 1881, Spelman College is a highly selective, liberal arts college widely recognized as the global leader in the education of women of African descent. Located in Atlanta, Ga., the college's picturesque campus is home to 2,100 students. Outstanding alumnae include Children's Defense Fund Founder Marian Wright Edelman; Sam's Club CEO Rosalind Brewer, Broadway producer Alia Jones, Former Acting Surgeon General and Spelman's first alumna President Audrey Forbes Manley, Harvard College Dean Evelynn Hammonds, Author Pearl Cleage and Actress LaTanya Richardson Jackson. For more information, visit http://www.spelman.edu.