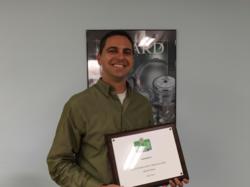 Vero Beach, FL (PRWEB) May 07, 2013
With their spring concert "Rochestra Rising!" just around the corner, Girard Equipment has awarded the May 2013 HETY Award to the orchestras of Oslo and Storm Grove Middle Schools. Both orchestras are highly recognized at both the county and regional levels, and the upcoming concert promises to be an unforgettable evening.
Performing with the orchestras at "Rochestra Rising!" will be a special guest, legendary rock violinist Bobby Yang. Yang is well known for his acoustic violin performances of music from rock legends such as Led Zeppelin and Rush, and has agreed to perform with the orchestras to benefit string music education in Indian River County.
"Rochestra Rising!" will be held at the Vero Beach High School Performing Arts Center at 7pm on May 11th. General admission is $15 and tickets may be purchased by calling 772-564-5537. For more information, visit http://www.osloorchestra.org.
To nominate your youth-focused organization for the HETY Award presented each month by Girard Equipment, visit http://www.girardequip.com to download the application.