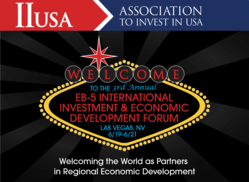 As the largest annual gathering of the international EB-5 Regional Center industry every year...we are taking our responsibility to deliver a comprehensive program featuring talented speakers to new heights
Chicago, IL (PRWEB) May 08, 2013
The Association to Invest in the USA (IIUSA), the national trade association for the EB-5 Regional Center Program industry, announced updates to its 3rd Annual International Investment & Economic Development Forum in Las Vegas, NV this week. IIUSA is hosting the 2013 Forum at the Mirage Hotel from June 19-21, and recently extended the group rate for conference attendees through May 15 – when ticket prices increase again. Anyone planning on attending the Forum should make their hotel reservations today.
"IIUSA has a special forum planned for this year," said Peter D. Joseph, IIUSA Executive Director. "As the largest annual gathering of the international EB-5 Regional Center industry every year, in the midst of a record breaking year of capital formation and job creation, we are taking our responsibility to deliver a comprehensive program featuring talented speakers to new heights – and it is reflected in our growing list of confirmed panelists, keynote speakers and guests of honor."
As Mr. Joseph alluded to, in addition to extending the group hotel rate this week IIUSA announced several additions to the speaker schedule. As of today, confirmed topics and speakers include:
IIUSA Commissioned EB-5 Regional Center Program Economic Impact Assessment/Forecast (Minnesota IMPLAN Group (MiG), Inc.)
Updated IIUSA EB-5 Regional Center Industry Best Practices (K. David Andersson, President, IIUSA; President, Whatcom Opportunities Regional Center -Daniel J. Healy, Director, IIUSA; Managing Director, Civitas Capital Management - Michael G. Homeier, Founding Partner, Homeier & Law, P.C. - H. Ronald Klasko, Chair, IIUSA Best Practices Committee; Partner, Klasko Rulon Stock & Seltzer, LLP)
EB-5 Regional Center Advocacy: Comprehensive Immigration Reform Update & Details on other Available Advocacy Channels (IIUSA Government Affairs Team:Russell Cartwright, President, Cartwright & Riley, Inc. - Tom Loeffler, Senior Counsel, Akin Gump Hauer Strauss & Feld, LLP - Hans C. Rickhoff, Senior Policy Counsel, Akin Gump Hauer Strauss & Feld, LLP)
Successful Partnerships Between Project Developers & Regional Centers (Kraig A. Schwigen, Senior Vice President, CMB Regional Centers - William J. Stenger, President/CEO, Jay Peak Resort, Inc.)
Update on USCIS Policy & Case Processing (including Trends in I-829 RFEs/Denials in 2010-2011) (Robert C. Divine, Vice President, IIUSA; Head of Immigration Practice, Baker Donelson Bearman Caldwell & Berkowitz, PC - Stephen W. Yale-Loehr, President Emeritus, IIUSA; Of Counsel, Miller Mayer, LLP; Professor (Immigration Law), Cornell University)
EB-5 & Securities Laws: Broker/Dealer Business Model, Due Diligence & Layers of Regulation (Guest of Honor & Keynote Speaker: Diana J. Foley, Securities Administrator, State of Nevada) (Panel: Frank Franiak, President/CEO, Woodfield Fund Administration - Mike Xenick, President, InvestAmerica Capital Advisors)
Understanding the Exit/Entry Industry in China (Kelvin Ma, Chair, IIUSA International Committee; Partner, Demei Law Firm - Larry L. Wang, President, Welltrend United, Inc.)
Regional Center Related Litigation: Strategies & First Hand Experience (Taher Kameli, President/CEO, Chicagoland Foreign Investment Group (CFIG))
USCIS EB-5 Training & Guidance for Adjudicators: What is Really New & What's Left Undone (David Hirson, Partner, Fragomen Global Immigration Law - Suzanne Lazicki, President, Lucid Professional Writing)
EB-5 Regional Center Terminations to Date: An Analysis & Look Ahead (Robert F. Loughran, Partner, Foster Quan, LLP - Dawn M. Lurie, Partner, Sheppard Mullin Richter & Hampton, LLP)
To Escrow or Not to Escrow...That is the Question (Ishween Sethi, Vice President (Agency & Trust), Citigroup - Reid Thomas, Executive VP Worldwide Sales & Marketing, NES Financial)
EB-5 as Part of the Capital Stack: Combining EB-5 Capital with Other Development Finance Programs (Katie Kramer, Director (Education & Programs) Council of Development Finance Agencies (CDFA) - Mariza McKee, Associate, Kutak Rock, LLP - Stephen Strnisha, CEO, Cleveland International Fund (CiF))
"Tenant Occupancy" and "Visitor Spending" Economic Impact Models
(Tenant Occupancy: Angelique Brunner, President, EB5 Capital - Cletus M. Weber, Partner/Founder, Peng & Weber - Paul E. Sommers, Ph.D, Professor of Economics, Seattle University) (Visitor Spending: Catherine D. Holmes, Partner, Jeffer Mangels Butler & Mitchell, LLP - Eric B. Jacobs, Chief Development Office, Marriott International - Suzanne R. Mellen, Senior Managing Director, HVS)
Global Competition for Immigrant Investors: What is EB-5 Competing with in the Global Marketplace? (Marc Audet, Vice President, Desjardins Trust, Inc. - Daniel Perron, Managing Partner, Henley & Partner Canada, Ltd.)
IIUSA's announcements this week constitute a notice to any and all EB-5 Regional Center industry participants that now is time to make plans to attend the cutting-edge EB-5 Forum in Las Vegas this June by visiting: http://www.iiusa-lasvegas.eventbrite.com.
###
Founded in 2005, the Association to Invest In the USA (IIUSA) is the national membership-based 501(c)(6) not-for-profit industry trade association for the EB-5 Regional Center Program (the "Program"). IIUSA's primary mission is to make the Program a permanent and successful part of 21st century U.S. economic development policy. To date, IIUSA's Regional Center members account for approximately 95% of all the EB-5 capital formation (billions of dollars), resulting U.S. job creation (tens of thousands of jobs), and tax revenue at the federal/state/local level (over a billion dollars) – all at no cost to the U.S. taxpayer.