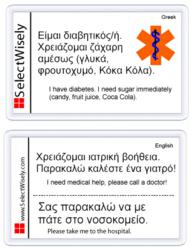 Travel to Southeast Asia, the Indian Sub Continent, South America or Western Europe - we have diabetes translation cards for any destination.
Sparta, NJ (PRWEB) May 08, 2013
SelectWisely now provides diabetes travel translation cards for people visiting countries where they don't speak the language. They have expanded their travel translation services to include Diabetes Type 1 Emergencies, Diabetes Type 2 – Sugar Free and Diabetes Type 1 Pharmacy cards to request insulin and supplies. Their goal is to provide travelers with diabetes a way to easily communicate in a foreign language.
"At SelectWisely we continue to provide people with new and effective ways of communicating when traveling. We have expanded our Diabetes card offering to include sugar-free Type 2 translation cards for travelers who want to avoid sugar in their diet," says James Ahlberg, Managing Director of SelectWisely. "Travelers can give the Type 2 cards to restaurant staff and be confident that they will be understood. We also offer Type 1 Diabetes Emergency cards in the event of a severe diabetic reaction requiring medical assistance and hospitalization and Diabetes Pharmacy cards to use for additional medical supplies."
According to the World Health Organization there are about 347 million worldwide with diabetes – over 22 million in the United States, Canada, Australia and the United Kingdom. These numbers are on the increase throughout the world with the predicted total population of people with diabetes approaching 435 million in 2030.
About the products and services:
SelectWisely offers wallet-sized, laminated foreign language translation cards and smartphone cards to individuals with food allergies, intolerances, diabetes, drug allergies and medical warnings to people traveling in countries where they don't speak the language. By visiting the SelectWisely web site, they can create a customized translation card specific to their needs.
SelectWisely now offers cards in:

50 different languages (French, Italian, Spanish, Greek, German, Russian, Indonesian, Chinese, Vietnamese, Hebrew, Arabic, Thai, Japanese and more).
30 different card types for food allergies, drug allergies, diabetes, gluten-free, asthma, medical emergencies and family travel.
150 different foods for all common food allergens such as nuts, peanuts, dairy, fish, shellfish, wheat, soy, sesame, lentils, legumes, eggs and more.
Additional translation cards are available for airport security, smoke-free boarding, bee sting allergy, child illness and cat allergies.
About the company:
Launched in 2004, SelectWisely is the leading provider of customized food and health translation cards for people who need help communicating their food preferences and health concerns while traveling in foreign-speaking countries. For more about the company visit our web site: http://www.selectwisely.com
Contact Information:
James Ahlberg
Managing Director
SelectWisely
973-214-2021