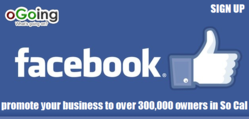 "Facebook and oGoing is a win-win for small business!" Sanjay Dalal, CEO & founder, oGoing
Irvine, California (PRWEB) May 07, 2013
oGoing Social Media Exclusive (oGoing SME) is an amazing solution that promotes a company's product or service in front of over 300,000 small business owners in Southern California, including the metro Los Angeles, San Diego, Santa Ana, Orange County and Riverside areas.
"Many oGoing small business customers use Facebook and oGoing together to promote and grow their business. oGoing SME is a powerful small business solution that combines Facebook's extensive social presence and oGoing's marketing expertise in Southern California." Sanjay Dalal, CEO & founder, oGoing.
oGoing SME Details
oGoing team will share the company message with the following target audience through Facebook Advertising:
1. Small Business Owner Category
2. Age 25 or higher (i.e. more matured business owners)
3. Located in Southern California
The company's product or service will be announced through the Facebook page of oGoing which is already used by thousands of owners and entrepreneurs. oGoing will use exclusive Facebook Advertising to give the company message a Marketing Boost in front of over 300,000 small businesses!
Bonus One: oGoing will promote the company on Ogoing.com, nation's leading small business social network for five days by providing the business a featured listing. oGoing has an engaged community that will review and interact with the offer. ($150 value)
Bonus Two: oGoing will send a sponsored e-blast of the offering to the oGoing small business community members and local business contacts (around 10,000 contacts). oGoing email blasts receive superior open and click-through rates. ($200 value)
Bonus Three: oGoing will make the organization an oGoing Pro business, and provide the organization continuous visibility and exposure through out the year! oGoing Pro generates higher website traffic for the business and improves SEO ranking. ($468 value)
oGoing social media platform integrates with Facebook. Small business owners can promote their products and services on both Ogoing.com and Facebook, and multiply their exposure.
oGoing SME Pricing
oGoing presents the exclusive Facebook Promotion in front of over 300,000 business owners, including the three bonuses outlined above, for an introductory price of $899 (billed every quarter)!
The oGoing SME social media marketing package provides considerable exposure, visibility and traffic in front of tens of thousands of local So Cal owners and entrepreneurs.
oGoing SME - What's needed?
The company provides oGoing the promotion write-up, photo of the product or service, and website page where prospective buyers will go to consume the offer.
oGoing will provide detailed reports of the promotion including insights! Thus, the business can measure the impact of their message on Facebook.
Where to Sign Up for oGoing SME?
Please contact oGoing today to get started. Mention "oGoing SME Facebook Promotion" in the comments section!
Call oGoing sales team M-F from 8 am to 5 pm PDT at 949-288-6880 or 888-856-8881.
Send oGoing team an email at: sales@ogoing.biz with the subject line: oGoing SME Facebook Promotion
Why choose oGoing SME for managing your Social Media Marketing?
1. oGoing is the nation's leading business social network for small business owners.
2. oGoing has been successfully managing social media services for clients for four years.
3. oGoing is a recognized leader in social media marketing solutions and consulting services.
4. oGoing founder & CEO has trained and consulted over 500 So Cal business owners on social media.
5. oGoing is a Facebook, Google, LinkedIn, Twitter, Microsoft and Apple trusted partner and developer.
About oGoing:
Ogoing.com is USA's leading social network for small business. Ogoing provides owners and entrepreneurs powerful web social media marketing platform that promotes the business, boosts online visibility, improves website traffic, raises SEO ranking, generates new leads and attracts new customers.