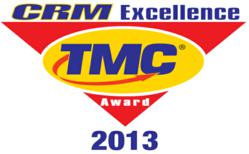 We are honored to be recognized by TMC and CUSTOMER magazine.
Herndon, VA (PRWEB) May 08, 2013
Parature, a global leader in cloud-based customer service software, announced today that TMC, a global, integrated media company, has named the company a recipient of a 2013 CRM Excellence Award™, presented by CUSTOMER magazine. CUSTOMER has been the premier publication in the CRM, contact center and teleservices industries since 1982.
Parature is being recognized by CUSTOMER magazine for its industry-leading multi-channel customer engagement solution being used by more than 3,000 customers across the globe. Parature's cloud-based platform enables customer support teams from mid-market and enterprise organizations to engage simply and effectively with customers and prospects through the Web, email, chat, mobile and social networks to provide the best possible customer experience and support. Parature customers enjoy a host of business and cost benefits including improved customer satisfaction and loyalty, rapid or first contact resolution via all major interaction channels, and streamlined self-service resolution.
"We are honored to be recognized by TMC and CUSTOMER magazine," said Duke Chung, Parature's Co-founder and CMO. "At Parature, we strive for excellence not only in product, but also in delivering top-notch service to our own customers. It is very nice to be recognized for our solution and the measurable benefits our customers enjoy."
"The 14th Annual CRM Excellence Awards has recognized Parature for being a true CRM partner to its customers and clients," said Rich Tehrani, TMC's CEO and Group Editor-in-Chief. "Parature has demonstrated to the editors of CUSTOMER magazine that its platform improved the processes of their clients' businesses by streamlining and facilitating the flow of information."
Based on hard data, the CRM Excellence Awards rely on facts and statistics demonstrating the improvements that the winner's product has made in a client's business. Winners were chosen on the basis of their product or service's ability to help extend and expand the customer relationship to become all encompassing, covering the entire enterprise and the entire lifetime of the customer.
The 2013 CRM Excellence Award winners can be found in the May issue of CUSTOMER magazine.
About Parature
Parature is the industry's leading provider of cloud-based customer engagement solutions and is used to support approximately 55 million end users worldwide. Parature empowers customer service organizations to monitor, manage, resolve and respond to a high volume of service issues across multiple communication channels, including the growing number of service-related conversations that are happening every day within social media channels. With more than a decade of experience, Parature delivers support and social media engagement and management solutions to mid-size and enterprise organizations across a wide variety of industries.
Parature is among the Deloitte Technology Fast 500 and is the recipient of numerous product, technology, and leadership awards including the 2013 CRM Watchlist and 2013 CRM Magazine Service Leader Awards. Parature is used by some of the world's most innovative organizations, federal agencies and companies, including IBM, Ask.com, the EPA, Tagged, the National Network of Digital Schools and Threadless. Parature is headquartered in Herndon, Virginia. For more information, visit http://www.parature.com, follow @parature on Twitter, or like us on Facebook at facebook.com/parature.
ABOUT TMC
TMC is a global, integrated media company that helps clients build communities in print, in person and online. TMC publishes multiple magazines including CUSTOMER, INTERNET TELEPHONY, M2M Evolution and Cloud Computing. TMCnet is read by as many as 1.5 million unique visitors each month, and is the leading source of news and articles for the communications and technology industries. TMC is also the producer of ITEXPO, the world's leading B2B communications event, as well as industry events: M2M Evolution; Cloud4SMB Expo; DevCon5; HTML5 Summit; Super Wi-Fi Summit, CVx; AstriCon; StartupCamp, and more. Visit TMC Events for a complete listing and further information.
For more information about TMC, visit http://www.tmcnet.com.