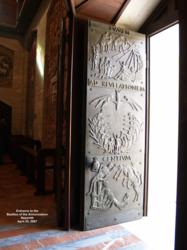 you have to get a key from a Franciscan to get in.
(PRWEB) May 13, 2013
Fr. Peter Vasko, President of the Franciscan Foundation for the Holy Land and a guide for pilgrimages in the Holy Land is bringing his pilgrims to a secret gallery beneath the Grotto of the Annunciation in Nazareth which has been turned into a museum. Fr. Peter shares "It is a wonderful exhibit that is preserving ancient carvings and links to our ancient past." He adds "My pilgrims love it but you have to get a key from a Franciscan to get in." Excavations continue to unveil new discoveries making it necessary to keep it locked up.
The hidden gallery that allowed early Franciscans to secretly reach their convent at the Grotto of the Annunciation, is much older than originally thought.
The gallery, one of numerous excavations throughout the Holy Land carried out by archeologist Francesco P. Eugenio Alliata, is now believed to predate the Crusades which occurred 300 years before the Franciscans arrived in 1600.
The revised date comes from recent discoveries of ancient symbols of the cross carved into the stone outside the grotto. Testing indicates the carvings were probably done by pilgrims visiting the site during the Middle Ages. The carvings were found beneath layers of ancient plaster that had been applied to the rock.
Restoration archeologists are continuing to work to preserve a number of fourth and fifth century paintings on the grotto walls. The paintings have been rapidly deteriorating because of excess humidity and salt that has accumulated beneath polymer coatings applied to the walls several decades ago.
The gallery, once open to the elements, has now been enclosed as a museum to keep it and the continuing discovered artifacts from further deterioration.
Fr. Peter Vasko says the Grotto of the Annunciation, believed to be the home of the Virgin Mary, has long been a popular destination for thousands of pilgrims to the Holy Land each year. But he is encouraging pilgrims to seek out this little known treasure and he adds, "I think they will be pleasantly surprised."
More information about the Basilica of the Annunciation is found at http://www.basilicanazareth.org or visit http://www.ffhl.org