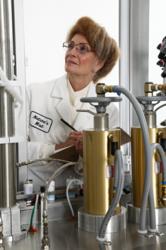 Grants Pass, OR (PRWEB) May 07, 2013
Bio-Logic Aqua Research Founder and water and health advocate Sharon Kleyne, recently announced that merely applying sunscreen when exposed to direct sunlight may not be sufficient to prevent reactions such as heat stroke, carcinoma or melanoma. The skin moisturizing innovator believes that to obtain maximum benefit, sunscreen users must become educated on the limitations of the product and on ways to minimize these limitations
Kleyne hastens to add that sunscreen products are extremely effective and have saved many lives. In the present era of increasing solar radiation, sunscreen has become indispensable.
The primary limitation of sunscreen, according to Kleyne, is that it can cause a backup of toxins in the skin and body that would normally be excreted through the skin along with perspiration. The toxin backup can cause an inflammatory immune response that could be physically dehydrating and actually increase the risk of dehydration diseases such as heat stroke.
Kleyne advises always make sure you are well hydrated before going out in the sun and that you remain well hydrated while in the sun and afterwards. In other words, increase your water intake. Mrs. Kleyne cautions against making sunscreen your only sun protection. The best solar protection is light, loose clothing, wide-brimmed hats and shade. If you begin feeling overheated, clammy, weak or dizzy, get out of the sun immediately and drink small sips of water until you feel better.
If your skin begins to show signs of sunburn, cover up and then hydrate your skin with a pure water mist.
Kleyne advocates applying sunscreen any time you believe your skin will be exposed to direct sunlight, summer or winter. The ideal time to apply sunscreen, according to Kleyne, is immediately after a bath or shower, when skin is at its most hydrated. Kleyne highly recommends the use of make-up that has a sunscreen SPF rating.
For maximum benefit, says Mrs. Kleyne, sunscreen should always be applied with a foundation of knowledge.