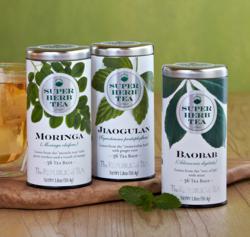 Novato, CA (PRWEB) May 08, 2013
The Republic of Tea, leading purveyor of premium teas, is proud to announce the launch of a new line of fortifying SuperHerb™ Teas. Each of the all-natural, caffeine-free, Certified Gluten-Free, Kosher-certified herbal tea varieties contain various nutrients and antioxidants that assist in attaining peak performance, strength, longevity and can be an easy and satisfying part of a daily wellness regimen.
The new line is comprised of three unique and innovative blends. The first in the collection is Moringa tea (mor-IN-ga) – Tea for Nourishment. This blend boasts leaves from the "miracle tree" (Moringa oleifera), which packs an extraordinary amount of nutrition into a small, vibrant leaf. The Moringa leaves in this particular tea are combined with green rooibos from Rainforest Alliance Certified™ farms to intensify its beneficial effects while a touch of mango adds a sweet note to the grassy, herbal base.
Jiaogulan (JEE-ow-goo-lan) – Tea for Stability is second in the collection, made with leaves from the "immortality herb" (Gynostemma pentaphyllum). This tea is infused with monk fruit, a celebrated zero-calorie, all-natural sweetener, and a hint of spicy ginger root. Benefits of the jiaogulan leaf have been recognized in Chinese culture for anti-aging, anti-anxiety and antioxidant properties. Third in the line of SuperHerb Teas is Baobab (BAH-oh-bab) – Tea for Centering. This tea is made from the baobab leaf (Adansonia digitata), which has a reputation for fighting asthma and soothing inflammation and fatigue. The earthy, light notes are blended with a touch of mint for a grounding, healthy tea experience. The Baobab SuperHerb tea also bears the Brunswick Lab's ORAC certified seal, meaning the tea has met specific antioxidant testing criteria. The Oxygen Radical Absorbance Capacity testing method was developed by the USDA and Tufts University to quantifiably measure the potency of antioxidants found in foods and beverages that protect cells from damage by oxidative stress. In addition, the Baobab and Jiaogulan SuperHerb Teas are both Non-GMO Project verified.
Each of these caffeine-free, premium herbal teas come in sleek tins that hold 36 tea bags and retail for $13.00. The full collection is now available for purchase nationwide at natural and specialty food stores, through the company website, (http://www.REPUBLICofTEA.com), mail-order catalogue and by calling 800.298.4TEA (832).
About The Republic of Tea:
The Republic of Tea enriches people's lives through its premium teas, education and innovation, as it emphasizes a "Sip by Sip Rather Than Gulp by Gulp" lifestyle. Founded in 1992, The Republic of Tea sparked a specialty tea revolution. Today the brand offers an unequaled selection of the highest-quality teas, herbal blends, books and nature-inspired sip ware, available exclusively at specialty retailers throughout the U.S. Further, The Republic of Tea is mindful of how its actions impact the greater community and actively supports worthy organizations like the Whole Planet Foundation, the Prostate Cancer Foundation, Room to Read, The Ethical Tea Partnership, Rainforest Alliance certification and Non-GMO Project verification. For more information, please visit http://www.REPUBLICofTEA.com or call 1.800.298.4832. Follow The Republic of Tea on Twitter at twitter.com/republicoftea and Like us on Facebook at http://www.facebook.com/RepublicofTea.