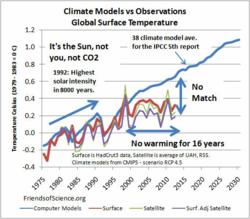 Western industrialized nations should have mutual trade interests based on reason and qualitative science – not emotional eco-rhetoric.
Calgary, Alberta, Canada (PRWEB) May 08, 2013
"Despite a tradition of common heritage and trade, the European Union is making misinformed judgements about Canada's oil sands production. The EU is not applying common standards. This is climate change hypocrisy," says Len Maier, a retired engineer, tree farmer, and President of Friends of Science.
Canada's 'tar' sands, or oil sands situated in the province of Alberta have been vilified by many commercial entities in the EU as well adds Maier.
"LUSH Cosmetics, the Cooperative Bank of the UK, Bank Track in the Netherlands, the UK Tar Sands Network, to name a few, all appear to be collaborating in some way with the publicly stated anti-oil sands campaign by TIDES Canada," says Maier.
He points to the 9th Annual Conference of International Funders of Indigenous People's Conference wherein Michael Marx of TIDES Canada lead a workshop on how ENGOs and First Nations people planned to work together and block oil sands development, while also blocking Keystone XL Pipeline from Alberta to the US gulf refineries.
"Members of the European Parliament have no doubt been influenced by the on-line anti-oil sands email campaigns these groups have carried on, yet this emotional rhetoric is not based on facts about oil sands development," says Maier.
Alberta has some 68,000+ registered members of APEGA – the Association of Professional Engineers and Geosciences of Alberta – the highest concentration of such professionals in the world who are subject to strict professional ethical, legal and regulatory guidelines.
A key focus of the Fuel Quality Directive is associated with carbon dioxide emissions (CO2) from oil sands operations as a crucial factor in the theory of catastrophic anthropogenic global warming. Oil sands GHG emissions per barrel dropped 29% from 1990 to 2009.
Friends of Science point to solar cycles as the main driver of climate change.
According to Friends of Science director Ken Gregory, "The UK Met Office global temperature index shows no warming trend for the last 16 years, a period when 33% of all human-caused CO2 emissions since the industrial revolution occurred. Further, CO2 itself is a nominal gas; some 0.04% of the atmosphere or 4 in 10,000 molecules. The most significant green house gas is water vapor, the effect of which is rarely discussed in the media."
Gregory further explains: "The small direct effect from CO2 emissions is offset by more clouds and declining upper atmosphere water vapor, especially in the tropics. This is why there's been no warming, despite a rise in CO2"
Gregory points out there is a very big difference between computer models and reality.
"The scientific evidence shows the catastrophic predictions were wrong. Computer models are not able to accurately predict what happens in reality."
The EU hypocritically grants renewable energy credits to EU industries that use Canadian wood chips as 'carbon-neutral renewables', despite the wood chips being shipped 8,000 km/5,000 mi. by fossil fuels. To Friends of Science, that's a ridiculous double standard.
"In Canada we create useful fuel products from the Alberta oil sands that drive world industry," says Maier. "We also don't come to the EU with a "Stop the Beer-maggedon" campaign trying to destabilize your economy."
According to calculations by Friends of Science, EU beer production accounts for 0.4% of EU carbon emissions. That means carbon dioxide emissions attributed to total EU beer production is more than half of the emissions from the oil sands – all just for entertainment and getting drunk, while oil sands provides the energy for value-added industrial development and jobs.
"Will the EU apply the Fuel Quality Directive emissions standards to pubs and beer? Why is Canada castigated when fuel from non-compliant countries that have no environmental standards is accepted?" says Maier.
He concludes: "Western industrialized nations should have mutual trade interests based on reason and qualitative science – not emotional Eco-rhetoric."
About Friends of Science
Friends of Science have spent a decade reviewing a broad spectrum of literature on climate change and have concluded the sun is the main driver of climate change, not carbon dioxide (CO2). The core group of the Friends of Science is made up of retired and active earth and atmospheric scientists. Membership is open to the public and available on-line.
Contact:
Friends of Science
P.O. Box 23167, Connaught P.O.
Calgary, Alberta
Canada T2S 3B1
Toll-free Telephone: 1-888-789-9597
friendsofscience.org
E-mail: contact(at)friendsofscience(dot)org