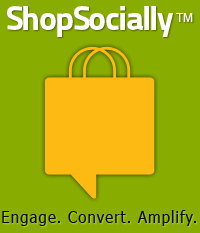 ShopSocially has been chosen as one of the most promising private companies to watch in 2013 by AlwaysOn
Mountain View, CA (PRWEB) May 10, 2013
ShopSocially (http://shopsocially.com), the leading social commerce platform for online retailers, today announced that it has been chosen by AlwaysOn as one of the 2013 OnDemand Companies to Watch for being one of the most promising private companies in the on-demand, cloud, and SaaS categories. Inclusion in the OnDemand Companies to Watch signifies leadership amongst its peers and game-changing approaches and technologies that are likely to disrupt existing markets and entrenched players. ShopSocially was specially selected by the AlwaysOn editorial team and industry experts spanning the globe based on a set of five criteria: innovation, market potential, commercialization, stakeholder value, and media buzz.
ShopSocially and the OnDemand Companies to Watch will be honored at AlwaysOn's OnDemand event on May 20th, 2013, at Hewlett-Packard's Executive Briefing Center in Palo Alto, CA.
This two-and-a-half-day executive event features CEO presentations and high-level debates on how the Internet is disrupting how companies—from small businesses to large enterprises—create, store, distribute, analyze, and take advantage of their mission-critical data.
"As we move into a new digital age that's fueled by robust applications, mobile technology, and always-on performance, on-demand innovations are enhancing almost every sector of the online world. The borders are being pulled down between desktop, TV, tablet, smartphone, and laptop, and the rigorous determination of the companies in the Global Silicon Valley are meeting and exceeding this developing entrepreneurial challenge," says Tony Perkins, founder and editor of AlwaysOn. "The OnDemand Companies to Watch winners are using the increasingly stable and reliable cloud infrastructure to develop, maintain, and deploy a continuous stream of disruptive technology to every single computer user on the planet. The OnDemand Companies to Watch are about to break into the Global Silicon Valley and become some of the highest-growth opportunities in the private company marketplace."
The OnDemand Companies to Watch winners were selected from among hundreds of other technology companies nominated by investors, bankers, journalists, and industry insiders. The AlwaysOn editorial team conducted a rigorous three-month selection process to finalize the 2013 list. http://aonetwork.com/announcing-the-2013-ondemand-100-top-private-companies/ .
"We are honored to have made the list.", said Jai Rawat, CEO of ShopSocially. "This is a true testament of the hard work and innovation done by the ShopSocially team. I would like to thank them for their dedication and congratulate them for this well deserved recognition."
###
About ShopSocially
ShopSocially is a SaaS social commerce platform driving word-of-mouth branding and millions of dollars in incremental revenue for 100s of top brands.
ShopSocially platform enables a suite of onsite social apps for eCommerce sites. Examples of these apps include Ask-a-Friend, purchase sharing, fan acquisition, shopping community, social reviews and more.
ShopSocially has won several awards and has also been featured by Facebook in a Social Commerce case study. Launched in Oct 2010, ShopSocially is a privately held company in Mountain View, CA. For contact information, please visit http://shopsocially.com/contact.html.