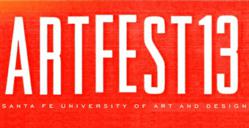 Santa Fe, NM (PRWEB) May 09, 2013
Santa Fe University of Art and Design (SFUAD) will host its second annual ArtFest on campus July 8–26. Launched in 2012, ArtFest is an international festival that brings together students and faculty members from around the world for three weeks of academic workshops, artistic workshops, and cultural activities focused on graphic design, film, photography, creative writing, fine art, concept art for games, animation, music, dance and architecture. Several classes will be open to SFUAD alumni and the Santa Fe community this year, in addition to offerings for teachers, counselors, and next year's high school juniors and seniors.
"Santa Fe University of Art and Design is dedicated to helping students expand their academic experience through programs with outstanding faculty and classmates from around the world," said Larry Hinz, president of SFUAD. "The university serves as a creative center not only in Santa Fe but around the world, and we're leveraging the success of last year's ArtFest to create an incredible three-week immersive art experience for participants."
Community and educator workshops are offered in Creative Writing July 8–13, including the Master Class in Poetry with Pulitzer Prize winner Louise Glück, Flash Fiction with Jon Davis, Mapping a Memoir with Emily Rapp and Intermediate/Advanced Poetry with Dana Levin. A Southwest Photography Survey will be held July 15–19 with Mary Anne Redding, and an African Drumming workshop will be taught by Fred Simpson July 22–26. High school students can attend Dana Levin's one-day Fiction and Poetry class on July 13 or choose between the Interdisciplinary ARTLAB with David Leigh and a Film Intensive hosted by The Screen's manager Peter Grendle, both held the week of July 15.
New workshop offerings for three-week ArtFest participants include courses on creative writing, sculpture, Latin American and southwestern architecture, and recording arts. Two workshops will be offered in Spanish. By popular demand, several classes will return from last year's ArtFest, including Micro Cinema, Flash Animation, and Digital Photography, among others.
SFUAD is expecting attendance by more than 500 students and faculty members from more than 10 countries, including Brazil, Chile, Costa Rica, Ecuador, Honduras, India, Italy, Mexico, New Zealand, Panama, Peru and Spain. Several cultural and social activities will again be incorporated into ArtFest, encompassing both on-campus events and off-campus excursions of Santa Fe and the surrounding communities. Many of these events are also open to the public.
ArtFest13 registration is limited and available on a first-come, first-served basis. For more information and to register for a workshop, visit http://www.artfestsf.com.
About Santa Fe University of Art and Design:
Santa Fe University of Art and Design is an accredited institution located in Santa Fe, New Mexico, one of the world's leading centers for art and design. The university offers degrees in arts management, contemporary music, creative writing, digital arts, graphic design, moving image arts (filmmaking and video production), performing arts, photography and studio art. Faculty members are practicing artists who teach students in small groups, following a unique interdisciplinary curriculum that combines hands-on experience with core theory and prepares graduates to become well-rounded, creative, problem-solving professionals. As a Laureate International Universities Center of Excellence in Art, Architecture and Design, the university boasts an international student body and opportunities to study abroad, encouraging students to develop a global perspective on the arts. Santa Fe University of Art and Design (formerly the College of Santa Fe) is accredited by The Higher Learning Commission and a member of the North Central Association, http://www.ncahlc.org.