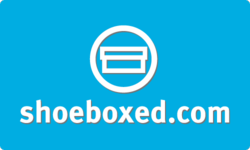 The addition of mileage tracking makes the Shoeboxed Receipt Tracker app a one-stop solution for business travelers to track reimbursable receipts.
Durham, NC (PRWEB) May 14, 2013
Today, Shoeboxed, the industry leader in cloud-based receipt scanning, unveiled new mileage tracking capabilities inside of its popular Receipt Tracker app. The Shoeboxed Receipt Tracker app is now available as a free download for iOS and Android.
The addition of this feature makes the app a comprehensive on-the-go expense tracking platform. Designed originally to allow users to quickly and easily digitize their receipts on the go, the addition of mileage tracking makes the app a one-stop solution for business travelers to track reimbursable receipts.
The new mileage tracking feature uses the built-in GPS on the user's smartphone to track distance and route with unmatched ease and accuracy.
The mileage tracking feature is built into the app with the addition of a new page called "Trips". With simple "Start Trip and "Stop Trip" buttons, the app provides one of the simplest and most clutter-free mileage tracking experiences currently available on mobile devices. After a trip is complete, the app generates a trip summary that includes the date, trip name, editable mileage and deductible rate information. This summary will be stored along with the user's other reimbursable receipts for easy expense reporting and record-keeping.
This release follows an update to the Receipt Tracker app that was made in February 2013. The new app features the same streamlined interface and unmatched performance of the previous version, in addition to the new mileage tracking feature.
Shoeboxed's Receipt Tracker app is one of several products offered by the Durham-based SaaS company to organize tax receipts in the cloud. The new Shoeboxed Web Clipper, a free browser extension released in April 2013, provides users everywhere the freedom and convenience to effortlessly submit receipts without ever leaving their web browser. The company's other offerings include desktop uploaders for Mac and Windows and a mail-in service that allows users to submit hard copy documents for scanning.
About Shoeboxed
Since 2007 Shoeboxed has been the industry leader in online receipt scanning and organization, serving over 500,000 small business owners worldwide. The pioneers of cloud-based receipt scanning, Shoeboxed saves users time, money and hassle by turning receipts into a categorized, IRS-accepted archive of secure online data.
Shoeboxed offers a fully functional free plan, as well as premium plans that include a prepaid mail-in service for physical receipts. Shoeboxed also accepts receipts via their smartphone apps, through their desktop uploader, or at receipts (at) shoeboxed (dot) com. Shoeboxed is based in Durham, North Carolina, and has growing offices in both San Francisco, California, and Sydney, Australia.
To learn more, please visit https://www.shoeboxed.com today.