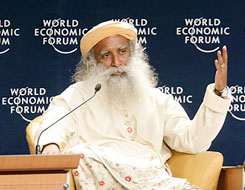 New York, NY (PRWEB) May 15, 2013
Well-known Indian yogi, Sadhguru Jaggi Vasudev will talk about competing in business with integrity, the proper inner environment to naturally succeed in business and in life, and the role of compassion in leadership and organizational effectiveness at the New York Society of Security Analysts' program Inner Engineering for Superior Business (and Life) Strategy on May 22, 2013.
Sadhguru is a contemporary mystic who is as strongly rooted in worldly, pragmatic matters as he is in inner wisdom. He regularly draws crowds of more than 300,000 people for his lectures and has spoken at some of the world's most prominent international leadership forums. He was a special invitee to the World Economic Forum (2006–2009) at Davos where he spoke on issues ranging from diplomacy and economic development, to education and the environment. He has addressed the World Tallberg Forum in Sweden, served as a delegate to the United Nations Millenium Peace Summit and the World Peace Conference, and he has spoken at leadership forums for executives and business leaders around the world.
Inner Engineering for Superior Business (and Life) Strategy will be held May 22, 2013 from 6:00 p.m.–8:00 p.m. at NYSSA Conference Center, 1540 Broadway, Suite 1010, New York, NY 10036.
Visit http://www.nyssa.org/innerengineering for the complete event description and registration information.
There is no charge for press with credentials. Interested members of the press can email press(at)nyssa(dot)org to request admission to this event.
About NYSSA
Established in 1937, the New York Society of Security Analysts (NYSSA) is a leading forum for the investment community. NYSSA's mission is to promote best practices and the highest professional and ethical standards in the industry. NYSSA is a nonprofit industry organization that provides education and a venue for policymakers and practitioners to discuss the major issues that drive the finance industry and economy. The Society also strives to assist its members and other financial professionals in their career development. With nearly 10,000 members, NYSSA is the largest of the 135 societies of CFA Institute, which has more than 105,000 members globally.