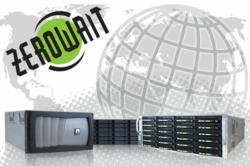 Our international growth started by our customers recommending our company to their peers around the globe.
Wilmington, DE (PRWEB) May 09, 2013
Michael and July Linett, the owners Zerowait Corporation, a 22 year old data storage and services company in Delaware have received the Small Business Administration's "Exporter of the Year" award for the state. Zerowait was named this year's recipient of the award on Monday at the company's Global Headquarters in Elsmere.
Over the last two decades, Zerowait expanded its reach to become the international leader in its business niche, with overseas offices in Manchester, UK and Sydney, Australia. Zerowait began humbly in the basement of a Hockessin, DE home when founder Michael Linett incorporated the company and began to work with internet technologies. In 2002, at the request of some of their customers they began to provide independent support services for customers with NetApp equipment. By 2006, the need for these services went global and led to the creation of their European office and parts depot. In 2008, Zerowait's large entertainment, media, and electronic gaming customers in the US referred them to similar customers in Australia and New Zealand. As the business grew, Zerowait's owners incorporated an Australian company and opened an office and distribution facility in Sydney. Now, Zerowait provides 24/7 support around the world with redundant data centers in Texas and Delaware.
As a customer driven company, Zerowait responded to customer requests for a Petabyte scale storage archive four years ago and designed the SimplStor product line to help their customers who needed an affordable big data storage solution. The SimplStor product line has grown into an international storage success story and is used by many companies overseas and in the US in the Oil and Gas sector, as well as the VFX (special effects) industry.
The business was located on Haines Street in Newark, DE for many years, but the company out-grew that facility, and in 2007 moved to their current location at 707 Kirkwood Highway in Elsmere, DE. Now, based on the growth in the Big Data and Cloud Storage markets, as well as growth in the energy and entertainment markets Zerowait is currently growing their footprint and recruiting staff for their new Dallas, TX facility.
"Our niche is High Availability Data Storage" Michael Linett said, " There was never much of a market in Delaware for our hardware and services, so we had to first look around the USA and Canada for business. Our international growth started by our customers recommending our company to their peers around the globe. Data Storage is a global business."
The SBA's " Exporter Of The Year" award will be presented at the annual "SBA Stand Up for Small Business" awards dinner on May 21 at the Deerfield Golf Club in the Newark, DE area.
ABOUT ZEROWAIT:
Headquartered in Wilmington, Del., USA, and with offices around the world, Zerowait is the worldwide leader in independent service and support of NetApp filers. Zerowait solutions include off-lease fully licensed NetApp systems and the new Zerowait SimplStor line of single-name space archive storage. Storage administrators throughout the world rely on Zerowait to provide affordable solutions to the skyrocketing costs of data storage. http://www.zerowait.com