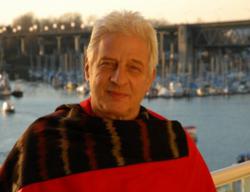 "Seriousness is a disease of the ego" - Stuart Wilde
New York, NY (PRWEB) May 10, 2013
Friends & Family sadly announce the passing of globally respected Author & Metaphysical Teacher, Stuart Wilde (http://www.stuartwilde.com). Wilde suffered a fatal heart attack on a scenic drive through Ireland on Wednesday 1st May 2013.
As Author of over 20 books (translated into 27 languages and selling millions of copies) on Spirituality & Personal Development, Wilde was considered by many to be one of the greatest metaphysicians that ever lived. Many famous New Age, New Thought writers & teachers privately studied with him including Deepak Choopra & Dr. Wayne Dyer.
"Stuart's sudden departure from the physical realm was very shocking and millions of hearts worldwide will be weeping with despair over the loss of a great teacher, a great man, and a great friend. He touched the lives of so many people and he will be greatly missed," said Stuart Wilde spokesman, Tom Lishman.
In the 1980s, Wilde correctly described the etheric life-field around humans in precise detail. Previously, it was known only in vague terms in discussions about the human aura. Wilde wrote out the first of many precise and verifiable etheric exercises and sensations in his book, The Quickening (Hay House 1995). In course of his 30+ years of teaching, Wilde appeared on over 500 Television Shows & 10,000 Radio Programs.
"Stuart passionately taught about freedom, love & respect for all human beings and for deep respect of nature. He was a relentless animal rights advocate. Also, it's important for people to know that Stuart never saw himself as being a guru or above anyone else. He believed that he was merely a mirror that reflected love & peace into the world and a facilitator of wisdom from realms of existence that one could refer to as heavenly," said Tom.
Among Wilde's teachings about love & peace were Wilde's teachings about spiritual evolution, personal development insights, philosophies about where human beings really came from, and predictions about world events yet to come that he would regularly see in transcendental meditation. Throughout the course of Wilde's life, hundreds of his predictions came true.
A private funeral service will be held for Wilde's immediate family, but larger memorial gatherings are currently being planned for the general public later in the year. Updates will be posted on Stuart Wilde's website - http://www.stuartwilde.com.
Condolences to Stuart Wilde's family and close friends can be emailed to:tolemac(dot)int(at)gmail(dot)com.
No flowers please but donations, which will be used to set up a foundation supporting his work, can be sent to:
https://www.paypal.com/cgi-bin/webscr?cmd=_s-xclick&hosted_button_id=MC277DQMVPMSS.
All media interviews for Tom Lishman can be directed to Ryan(at)goldmanmccormick(dot)com.
Links To Famous Stuart Wilde Quotes
http://www.stuartwilde.com/2011/11/quotes-2/
http://www.ascensiongateway.com/quotes/stuart-wilde/