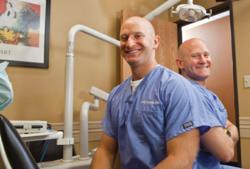 Austin, Texas (PRWEB) May 30, 2013
Dental care is important throughout one's life, but establishing sound dental hygiene practices as a child is essential for a lifetime of healthy and happy teeth. It's up to parents and guardians to guide their little ones through the oral healthcare routine during early years so they can develop lasting habits. Kids often aren't interested in brushing teeth and/or try to take shortcuts with dental hygiene, so Dr. Chad Denman—an Austin dentist / Round Rock dentist at Family Tree Dental Group—has put together a list of tips for parents teaching their kids the fundamentals of oral healthcare:
1. 2 x 2. Just like adults, kids should brush their teeth 2 times a day for 2 minutes at a time with a fluoride toothpaste. Dentists recommend brushing in the morning after breakfast and at night just before bed. For children that may struggle with the length of brush-time, turn it into a game or use 2 minutes of their favorite song as a timer.
2. Brush all the teeth. For some kids, logic may dictate that they only need to brush their front teeth that are visible when smiling or talking. Educate children on the importance of brushing all teeth and all sides, even the ones in the very back. The family dentist should be happy to demonstrate how this is properly done.
3. Go soft. Toothbrush bristles are made in varying degrees of firmness. Children's toothbrushes should have soft bristles. If in doubt, look on the product packaging, which will have the information. Harder bristles may actually brush away tooth enamel, which protects teeth from cavity-causing sugars and acids. Once enamel is gone, there's no replacing it.
4. Brush the tongue too. Children may find this funny, but teach them to include brushing their tongue as part of their teeth-brushing routine. Bacteria can hide in the bumps and ridges of the tongue, which may lead to bad breath or even oral disease and tooth decay. Combining this technique with teeth brushing and flossing is the best way to combat cavities.
5. Healthy diet. Diets high in fruits, vegetables and unprocessed foods aren't only great for the body, they're also great for teeth. Healthy foods tend to be low in sugar, and sugar is the main culprit for causing cavities. In addition, crunchy fruits and vegetables like apples and raw carrots act as natural toothbrushes to help scrub away stains. Don't forget to encourage water or milk over soft drinks. The acids in sodas, juices and sports drinks contributes to the destruction of tooth enamel, which can lead to cavities too.
Family Tree Dental Group was founded in 2011 by Austin dentists - Round Rock dentists and identical twin brothers Drs. Chad and Shelby Denman to provide high quality dental care in a state-of-the-art environment with careful attention to detail and deep personal respect. Family Tree Dental Group helps maintain the oral health of patients of all ages and cares for all dental needs under one roof. For more information, call (512) 458-5999 in Austin, (512) 310-3999 in Round Rock, or visit http://www.FamilyTreeDentalGroup.com.