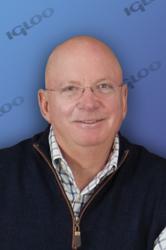 I was honored to be nominated for this award a second time and am humbled to be among the finalist of the Gulf Coast Area program again.
Katy, TX (PRWEB) May 10, 2013
Ernst & Young LLP today announced Igloo Products Corp. Chairman and CEO Gary Kiedaisch as a finalist for the Ernst & Young Entrepreneur Of The Year® 2013 Award in the Gulf Coast Area. This is Kiedaisch's second time participating in the program. He was nominated and became a finalist for the Central West Area first in 2007.
The awards program recognizes high-growth entrepreneurs who demonstrate excellence and extraordinary success in such areas as innovation, financial performance and personal commitment to their businesses and communities. As a finalist, Kiedaisch was selected from nearly 70 nominations by a panel of independent judges. Award winners will be announced at a special gala event on Thursday, June 13 at the Hilton America's Houston Hotel.
Now in its 27th year, the Entrepreneur of the Year Program has expanded globally to recognize company builders in over 140 cities and in more than 50 countries throughout the world. Regional award winners go on to compete at the national level. Award winners in several national Categories, as well as the National Ernst & Young Entrepreneur Of The Year Overall Award winner, will be announced at the annual awards gala in Palm Springs, California, on November 16, 2013. The awards are the culminating event of the Ernst & Young Strategic Growth Forum®, the nation's most prestigious gathering of high-growth, market-leading companies.
Known as a turnaround specialist with a keen eye for strategic planning, Kiedaisch has taken the competitive skiing mindset of his youth to making outdoor businesses compete on a world stage. Over the years, global companies including AMF Head Ski, Bolle Eyewear, Bauer Nike Hockey, The Coleman Company and Igloo Products Corp. have grown healthier because of his "there is no can't" management philosophy. Kiedaisch commented on the announcement from Ernst & Young saying, "I was honored to be nominated for this award a second time and am humbled to be among the finalist of the Gulf Coast Area program again."
Kiedaisch believes making companies healthier is only part of the responsibility of a CEO in the outdoor industry. Staying engaged with what makes the outdoors central to the American mindset is critical. As a lifelong steward of the outdoors, a member of the National Parks Foundation, a contributor to disaster relief efforts such as the Joplin tornado, Kiedaisch has been true to the mission of all business. "Grow the company, listen to your customers, make quality products that the market demands and, above all, improve the quality of life for all," said Kiedaisch.
For further information about Gary Kiedaisch's participation in the Ernst & Young Entrepreneur of the Year program®, contact Katie Davis at kdavis (at) igloocorp (dot) com.
# # #
About Igloo Products Corp.
Founded in 1947, Texas-based Igloo Products Corp. is today an international designer, manufacturer and marketer of outdoor products that make the outdoor experience more accessible and fun. So whether it's on the water, near the water, on the trail, on the hunt, in the mountains or just around the house for family fun, Igloo goes where you go and makes the experience better. For more information on Igloo, visit the company's Web site at http://www.igloocoolers.com.
About Ernst & Young's Entrepreneur Of The Year®
Ernst & Young's Entrepreneur Of The Year is the world's most prestigious business award for entrepreneurs. The unique award recognizes the significant contributions of entrepreneurs who inspire others with their vision, leadership and achievement.
About Ernst & Young LLP's Strategic Growth Markets practice
Ernst & Young LLP's Strategic Growth Markets (SGM) practice guides leading high-growth companies. Our multidisciplinary team of elite professionals provides perspective and advice to help our clients accelerate market leadership. SGM delivers assurance, tax, transactions and advisory services to thousands of companies spanning all industries. Ernst & Young is the undisputed leader in taking companies public, advising key government agencies on the issues impacting high-growth companies and convening the experts who shape the business climate. For more information, please visit us at ey.com/us/strategicgrowthmarkets, or follow news on Twitter at EY_Growth.
About Ernst & Young
Ernst & Young is a global leader in assurance, tax, transaction and advisory services. Worldwide, our 167,000 people are united by our shared values and an unwavering commitment to quality. We make a difference by helping our people, our clients and our wider communities achieve their potential. For more information, please visit ey.com.